The Crucial Pocket Square Rules
Views: 282 Author: Bella Publish Time: 2023-08-24 Origin: Site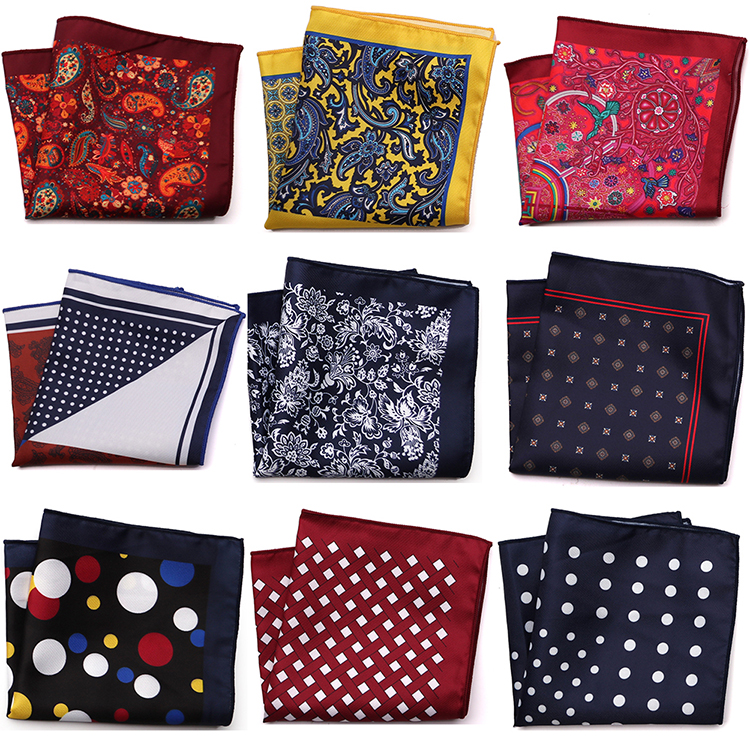 Matching a Pocket Square With a Tie
Do your pocket square and tie have to match exactly? The quick response is no. While it may appear like a simple approach to assembling your ensemble, it is definitely not appropriate to match your pocket square with your tie or bow tie. Rather, the pocket square ought to enhance the overall appearance of your ensemble by harmonising or creating contrast with your further accessories. Matching pocket square and tie combinations are even available at some retailers, but if you want to look like a style expert, we suggest avoiding these.
Choose a colour from that palette and match it to a primary colour in your tie if your pocket square has a pattern or design.
The +2 Rule
One item we would highly recommend using with your pocket square is the +2 Rule. On a scale of 1 to 10, where 10 is the most flamboyant and 1 is the most conservative, you should choose a hue or fold that is +2 over what you would typically choose for yourself.
Assuming that you would typically be a 3 on the aforementioned scale, we strongly advise you to try for a 5. This is because wearing a pocket square makes you seem better overall and shows that you are conscious of your appearance. But in order to really reap the benefits, you'll need to dress a tad bit more upscale than you usually would.
Consider this: Have you ever attended a more formal event? If so, it's possible that you wore a tie, pocket square, or bow tie that isn't often a part of your wardrobe. Your housemate, friend, or lover compliments you on your outfit as you're getting ready to leave your place. Feeling confident, you head out of the house and arrive at the event only to discover that no one notices you and no one compliments your clothes! You blend in with the throng because everyone is well-dressed, which is the reason behind this.
You probably don't want to be a 10, but if you include this in your regular wardrobe, trust us when we say that you will receive praise if you select hues or a fold that is +2. It's astonishing how much of an impact this has on your self-confidence.
Rules of Pocket Square
We've outlined some general guidelines for wearing pocket squares below.
For your pocket square, use a secondary shade from your shirt or tie as the main hue.
Avoid going overboard with the designs; instead, use some flat hues for your shirt that will draw attention to the colours and patterns in your pocket square or tie.
Don't match your pocket square and tie exactly.
Make sure your silk pocket square is larger than 40 cm by 40 cm (16 inches) if you're wearing one; otherwise, the delicate material may fall into your pocket.
Align your fold with the situation. Use more flair for more informal situations by using the traditional puff fold or any of the more flamboyant folds shown in our folding recommendations. For formal occasions, keep to the flat fold or one or two point folds.
Select only manually rolled pocket squares, as the edges provide the pocket square with structure to enable various folds.
How the Pocket Square Is Folded
The three traditional folds listed below range from the most understated to the most extravagant. To see our folding guide for that specific appearance, click the image.
The Best Wedding Pocket Square Folds
We wanted to share some of our favourite pocket square folds with you to pair with your tailored jacket so you can look your best on your wedding day. The appropriate fold can guarantee that you seem exquisite and stylish for any wedding occasion.
Purchase Quality
Since we consistently use the best materials, it stands to reason that we would advise you to continue purchasing the highest-calibre products on the market. Still, consider this: if you get a premium pocket square, it is not hyperbole to state that, with good care, it will last you a lifetime. It can also be passed down to the following generation because it is not subjected to the same wear and tear as most articles of apparel. We always love to hear from our community that they plan to pass down our items to future generations of family members, since it is one of the greatest compliments we get.