9 Fantastic Ways to Reuse Old Ties
Views: 274 Author: Bella Publish Time: 2023-08-22 Origin: Site Inquire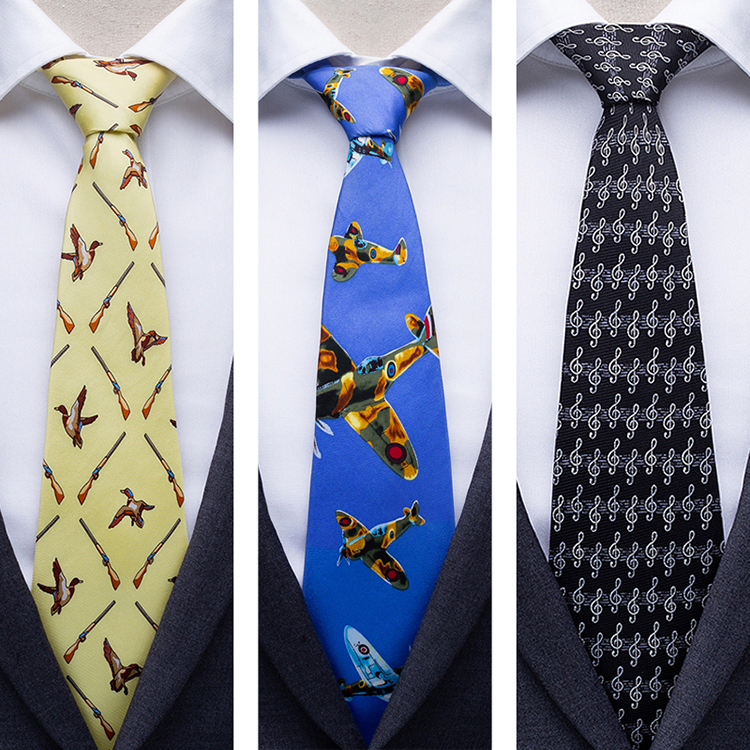 An excess of neckties is one of the consequences of our more casual workplace. Any decent-sized thrift store will have entire nests of vibrant old ties twisted and coiled inside bins and strung through hooks. Studying them is like taking a fashion and style history lesson. They are available in slim, wide, and extra wide styles; in paisleys, checks, argyles, and collegiate stripes; and in wool, acetate, polyester, and silk. They are waiting to be taken back and used again. What can you do with these cast-offs, then, if you're not a sucker for formal attire and antique clothing? These nine suggestions will help revive faded relationships.
1. Napkin Rings
By cutting and sewing ties with conventional patterns into tiny rings, one can create napkin rings with a distinctive mismatched or matched appearance. Select more expensive tie fabrics, such as silk or wool, since napkin rings are rarely soiled.
2. Returns for Curtains
Use thin or medium-width ties as curtain tie-backs to give your curtains a distinctive touch. Simply cut to size, fasten with a button or Velcro strip, and you're done!
3. Belts
Belts can be made from narrow wool or cotton ties, particularly those with plaids or argyles. For a more laid-back vibe, team it with dark-wash denim and a D-ring-style buckle.
4. Throws and Quilts
If you're willing to take on a complex and demanding undertaking, consider making a throw or quilt out of neckties. Make sure to consider the weft and warp of the cloth while sewing ties together or utilizing cut pieces of tie fabric. Every cloth has a unique weave that influences how it stretches, in addition to having a unique weight. Selecting materials with comparable warp and weft properties will help to avoid misshaping or undue stress on a certain area.
5. Carpets
To create a rug out of polyester or cotton ties, follow the same process as for creating the quilt. Try using ties as the yarn to make a rug if you enjoy knitting or crocheting. Simply cut the ties to the same width, then stitch the strips together end to end. For added safety, add a non-skid backing or pad.
6. Headwear
A distinctive and long-lasting scarf can be made by sewing together ties made of cotton or wool that are spaced apart. Finish with velvet or denim, or leave the edges raw.
7. Tablecloths
Apply the same technique as for the scarf to produce a unique tablerunner using silk with rich paisley patterns. Add tassels or basic beads to finish.
8. Kitchen Towels
Do you recall the days when every kitchen had those tiny dish towels with the tab that threaded through the handle of a drawer and had a button on the front? In the 1970s, these seemed to be hanging at the sink or from the oven handle in every kitchen. It was a really cute little craft project that could be modified to use vintage neckties. Using the tie's widest point, hem and stitch one end to the back of a hand towel or dish towel, then fasten the pointed end with a button or piece of Velcro to the front. Considering that these will be washed and worn often, choose a sturdy cotton or polyester tie.
9. Tailored Pillows
Your decorative pillows will look more distinctive and personalized if you center and sew a tie vertically and another horizontally to give them a "gift-wrapped" appearance. This looks particularly good with denim cushions and vintage plaid ties, or white pillows and strong, highly patterned black ties.
Thus, the next time you go yard sale or thrift store shopping, look for those old orphaned ties; they still have a lot of life left in them. Something that was a headache for the guys in the past may be made into something inspiring and useful with a little ingenuity and skill.
Are you storing old ties in a closet? In what ways have you recycled and repurposed them? What concepts did I overlook?