12 Chic and Ingenious Ways to Wear a Summer Scarf
Views: 263 Author: Kaylee Publish Time: 2023-08-15 Origin: Site Inquire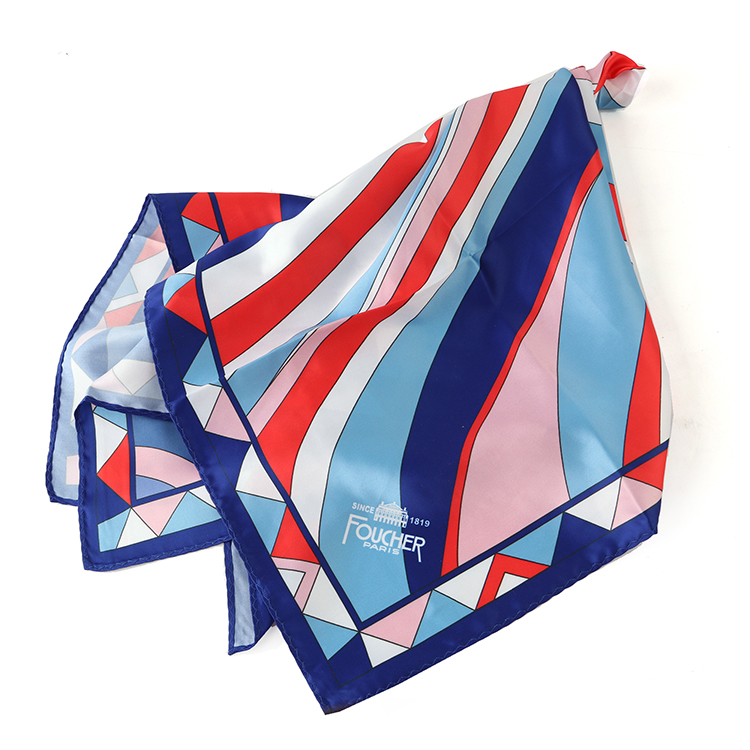 You can still wear your preferred neck warmer even though it's summer. A scarf is a multipurpose accessory that will do many things for you. Of course, it's crucial to remember that scarves made of heavier materials or thick knits should be avoided in warmer temperatures. For summer, a lightweight extra is the best option. Pick one that is made of a natural material like cotton, rayon, or linen and is cool to the touch. There is no issue if you wish to make a silk scarf. Just be sure it's made of real silk rather than polyester textiles that mimic silk. Once you've organized your summer scarves, try the following to make the most of them:
1.Hair Jewelry
Use the scarf as a headband or hair tie to add a feminine touch to your ensemble. For this look, a square scarf might be used. Choose a small to medium-sized one.
2.Candy Bag
Unsure about how to use your preferred extra for the day? Maybe you want to take it out for a spin but decide the weather is too hot. Then follow Nina Dobrev's example and wear it as a bag of candy. So simple, right?
3.Compact Last-Layer
Even if it's warm outside, you can still wear the scarf as usual. The ideal last layer consists of thin pieces that have fascinating details clipped around them. To add polish, wear the scarf on top of a straightforward but seductive tank. Put a printed scarf over whatever you're wearing on days when the weather is cooler than usual to add color to your look.
4.Neckerchief or Necktie
To add a spectacular accent to your ensemble, wear your scarf as a neckerchief or necktie. A little square scarf with a lovely design works best for this.
5.Wrap
The summer is the time for revealing dresses, short shorts, tank tops, and bikinis. You can accessorize such items with your scarf. You may tie the ends together and wear it as a kimono or use it as a wrap to add some glam to your outfit.
6. Arm Party
It is well known that you can use the little square scarf as an armband. This is a fantastic technique to relieve your wrist from the strain of wearing so many heavy bangles.
7.Dress
A big scarf can be used for this. With your extra, you may even make a variety of necklines, like strapless, halter, or one-shoulder. If you need advice on how to transform the scarf into a dress, ask Elle Evans!
8.Sarong
If you're stuck at the beach, you can also use your wispy blanket as a sarong. Although very location-specific, this is fairly similar to option 5. You may also try wearing your scarf as a skirt, say for a party, but you'll need some additional items, like a pin or brooch, to keep it in place.
9.Vest Or A Top
Having trouble finding the ideal shirt to pair with or not knowing what to wear. Why not make a shirt out of one of your scarves instead?
10.Head Wrap
Using the scarf as a head wrap throughout the summer is another fantastic way to style it. You can accomplish this in a variety of ways, including by adopting a vintage rockabilly appearance.
11. Cross Your Shoulders
Lay a sheer scarf over your shoulders to wear it as a straightforward shawl. Use a scarf with an earthy print and wear it over a dress with a similar print. For a hint of nostalgia, combine with lace-up boots, socks, and round-rimmed sunglasses.
12.Hanging Halter
Excellent for wearing to the beach! To achieve the hanging halter appearance, fold a rectangle scarf in half, then wrap the ends (of one side) behind your back. You find it too difficult. To achieve the same result, simply loosely tie the scarf around your neck and distribute a small amount of the material across your chest. Choose a tasseled, lavishly printed item. Best worn over a pair of denim cutoffs and a bikini top. Please remember your sunglasses!