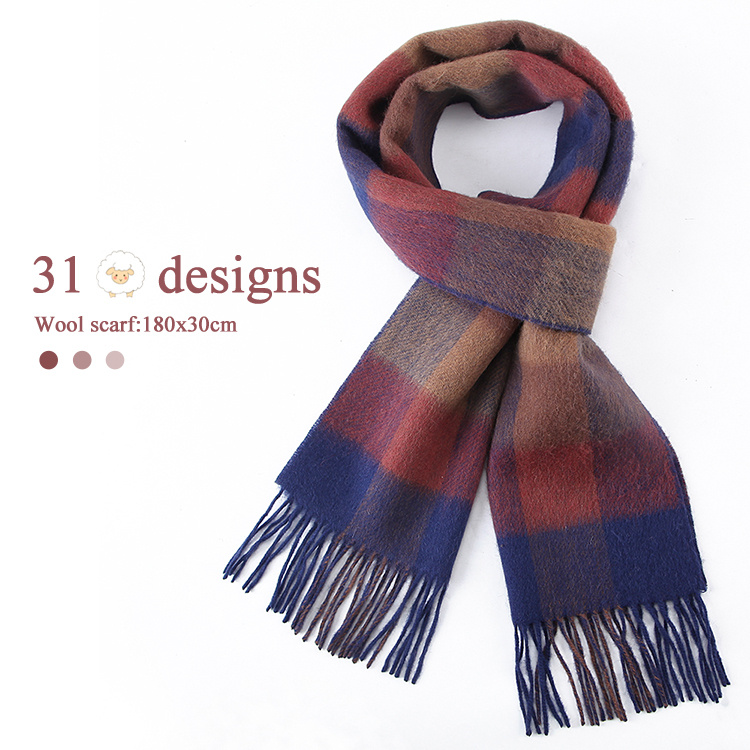 Scarves are adaptable fashion items that add a touch of class and charm to any ensemble. With centuries-old origins, scarves have crossed ethnic barriers to become a universal sign of flair and sophistication.
These cosy materials offer a touch of elegance and flair to any outfit while keeping you comfortable throughout the chilly months. Similar to the French scarf, scarves provide countless ways to show uniqueness and personal taste through vivid designs and opulent fabrics.
Scarves are the perfect accent to complete any outfit, whether they are draped casually over the neck or artistically tied.
Let's examine the newest scarf fads that are predicted to rule the fashion world in 2023.
Statement-making Patterns and Prints
Bold and striking prints and patterns are one of the key scarf styles for 2023. Scarves will include vivid colours and stunning patterns, whether they are animal prints, abstract patterns, or floral themes.These distinctive scarves may add individuality and flair to your outfit, instantly elevating a basic outfit. Feel free to play around with pattern blending or add a striking scarf to a monochromatic ensemble to make a statement.
Chunky and Oversized Scarves
In 2023, big, oversize scarves will still rule the fashion world. In addition to keeping you warm throughout the winter months, these trendy accessories are cosy.
For an opulent and stylish appearance, choose plush materials, textured weaves, or chunky knits. For a stylish anduseful accent, drape them loosely over your shoulders or cinch them around your neck.
Retro vibes Designs with a retro feel are becoming more popular. Consider '60s and '70s-inspired vintage designs,
geometric prints, and strong colour combinations.
You can instantly channel a timeless and traditional vibe by adding one of these retro scarves to your modern ensembles.
To create a stunning throwback aesthetic, use them with denim, leather jackets, or bohemian-style dresses.
New Methods of Draping and Styling
The time when scarves were simply worn around the neck is long gone. Innovative draping and styling methods will rule in 2023.
Try asymmetrical drapes, complex knots, or belting scarves to create one-of-a-kind, cutting-edge designs. By transforming scarves into tops, belts, or headpieces, you can express your creativity and sense of fashion.
These adaptable accessories are a fashion asset in your collection because they have countless uses.
Sheer and Thin Materials
Scarves that are sheer and light are perfect for 2023's warmer months. Silk, chiffon, or organza fabrics keep you cool and comfy while giving your ensembles an ethereal touch.
To get an effortlessly stylish and feminine look, choose scarves in soft pastel tones or delicate designs. For a light and romantic feel, drape them freely about your shoulders or tie a loose knot.
Scarves as Layering Piece
A major trend for 2023 is layering. Using scarves is a key component of this fashionable method. To give your outfit depth and complexity, try layering scarves with different lengths, textures, and colours.
For a dramatic and eye-catching style, layer a thick knit scarf over a lightweight silk scarf or match a patterned scarf with a solid-coloured coat. Layering scarves creates countless possible combinations and guarantees that your look stands out.
Style for a Monochromatic Scarf
The trend of monochromatic outfits is growing in popularity, and scarves are a great way to follow it. Choose a scarf that is in the same colour family as your clothing to achieve a coordinated and chic look. For a chic and put-together outfit, combine a camel-coloured scarf with a beige sweater and pants, for instance.
When styling a scarf in one colour, you can experiment with different textures and materials while still looking polished and put-together.
Scarves with Embellishments and Embroidery
In 2023, scarves with elaborate embroidery and embellishments will be popular. These scarves add a splash of glitz to any outfit with their stunning beading, sequins, or embroidered designs.
An embroidered or embellished scarf may completely change your look, whether you're dressing up for a formal occasion or just want to look better.
Select a scarf with tasteful accents that go with your attire and turn it into a genuine standout piece.
Ethical and Sustainable Scarves
In 2023, there will be a greater emphasis on ethical fashion and sustainability, which will lead to a rise in demand for eco-friendly scarves.
To combine your sense of style with environmental awareness, look for scarves made from organic cotton, bamboo, or recycled materials. These scarves not only have distinctive textures and patterns but also give you the chance to help the environment.
Use ethical and sustainable scarves to express your style while putting environmental responsibility first.
Conclusion
As we adopt the fashion trends for 2023, scarves emerge as a crucial piece of attire for enhancing one's look. Scarves offer countless styling options, including novel draping strategies, bright statement prints, and retro-inspired designs.
Scarves provide you the chance to showcase your individual sense of style, whether you choose big, bulky knits, delicate sheer fabrics, or monochromatic styling.
Choose what suits you, and get ready to create a fashion statement with scarves that are a true reflection of your personal style.