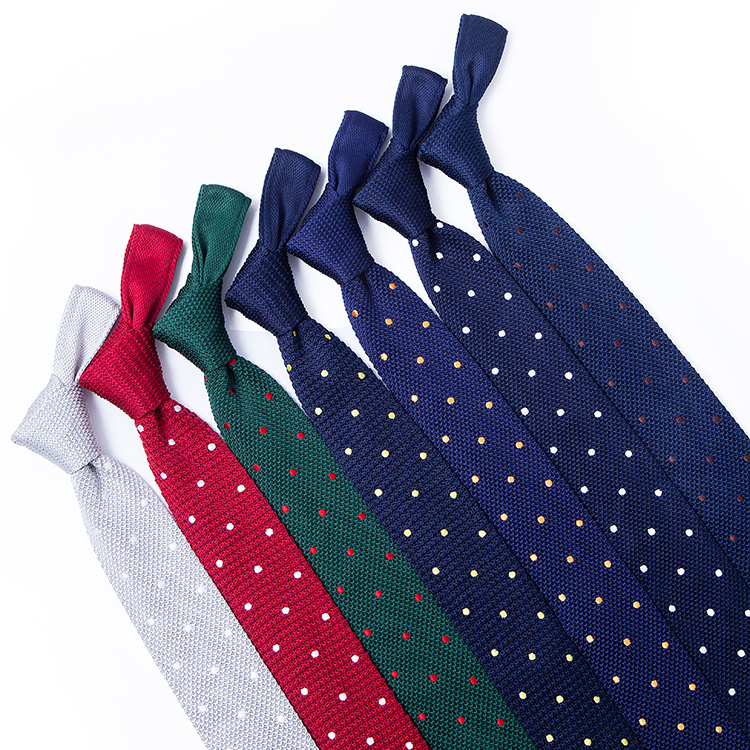 Trendy Necktie Textures for 2023
It's time to discuss textures, which are frequently disregarded yet are quite important in men's fashion.
Additionally, the texture of a necktie may make all the difference.
Texture is significant because it gives your clothing depth and dimension. A textured tie provides a little bit more that may elevate your ensemble above a basic, flat tie, which may still look fine.
We're going to see a lot more textured ties in 2023.
There is a solid reason why knit ties are returning to fashion. They provide a suit and shirt combo a dash of casual elegance.
Wool ties are also in style this year, particularly in richer hues like burgundy and darker shades like navy. They give any ensemble a dash of refinement.
Not to be overlooked are linen ties, which are ideal for outdoor celebrations and weddings in the summer.
There are a few key considerations to make while using textured ties with your suits and shirts.
First, think about the situation. In contrast to a work interview, a knit tie might not be acceptable for a casual wedding.
Second, consider the hues of your attire. To avoid unwanted clashing, it's better to go with a solid-colored, textured tie while wearing a patterned shirt or suit.
There are moments when too much truly is too much.
Finally, take attention to the fabric's weight. A light linen suit might not go well with a thick wool tie. Also the opposite.
You shouldn't allow these rules restrict your freedom just because I say so, as is always the case. When it comes to developing a good personal style, experimentation is crucial.
To determine what suits you best, experiment with different textures and combinations.
Don't be afraid to branch out and try something new in 2023, whether you prefer the traditional silk tie or want to shake things up with a textured knit or wool tie.
Speaking of silk neckties, these are without a doubt my all-time favorite neckties, and I will examine them in-depth in upcoming blog entries from a variety of perspectives. So pay attention.
What Colors Will Be Popular for Neckties in 2023?
When it comes to fashion, color is a strong tool, and neckties are no exception.
They can match the hues of your shirt and suit or add a splash of color to your ensemble.
I anticipate seeing a variety of necktie color trends in 2023.
First of all, people continue to like vibrant and strong hues. Consider rich crimson reds, emerald greens, and deep blues.
These hues exude assertiveness and assurance. Additionally, they're ideal for adding a pop of color to a timeless suit.
Conversely, subdued colors are also common for ties in 2023.
Beige, gray, and navy are classic neutral hues that go well with practically any ensemble. These hues may also subtly make a statement, making them ideal for a more somber occasion.
There are several important suggestions to remember while coordinating colors. For instance, a gray suit works well with a burgundy tie, whereas a navy suit looks great with a lighter blue necktie.
To look extra adventurous, match a vivid tie with a patterned shirt. You may even attempt color-blocking with complimentary hues if you want to be audacious. However, proceed with care.
To help you create your own color schemes for your suit and tie ensembles, I'll shortly go over the fundamentals of color theory.
However, don't simply believe me! View some illustrations of neckties in current hues and designs.
Bold stripes and exquisite paisley patterns are both present.
That's all I have to say, gentlemen. When selecting your next necktie, keep these color trends in mind and don't be scared to experiment.
Who knows, you could even discover a new favorite necktie and style!
Which Necktie Knots Are Proper for 2023?
Okay, gentlemen, let's talk about one of my favorite subjects: necktie knots!
Keep up with the most recent fashion trends since the necktie knot you select may significantly alter how you seem. Here are a few necktie knots that will be common in 2023:
(Full) A traditional knot that conveys confidence and power is the Windsor. It's ideal for formal settings or when you want to draw attention. It's true that wearing a Windsor knot can be a bit excessive for some circumstances, as some people may argue. However, how you wear one depends entirely on your personality. Don't overthink it and just go for it if your personality suits the potent message that this knot makes!
The Pratt Knot is a more contemporary variation on the Double Windsor. It is more symmetrical and somewhat thinner, making it ideal for daily use. So you might want to try this knot if the Windsor knot doesn't seem right to you. Though it's not quite there, it does have a more relaxed air that seems "safer" while still being forceful enough to deliver a clear, unmistakable message.
Despite the fact that you might have expected me to add the Prince Albert knot to this list, I don't want my own preferences to color this blog article. You already know that I love this knot, and in many upcoming postings I will delve further into the wonder that is the Prince Albert knot.
Let's move on now that that has been resolved.
It's crucial to take the width, thickness, and formality of the event into account while choosing the best knot for various ties and events.
A Pratt knot is more adaptable and may be worn with a range of tie widths and suit designs, whereas a Windsor knot looks best when worn with a broad tie and a formal suit.
There you have it, then. The newest necktie knot styles for 2023. Do not be afraid to explore in order to locate the ideal knot for you to wear this year. Keep in mind that the appropriate knot may elevate your style game.