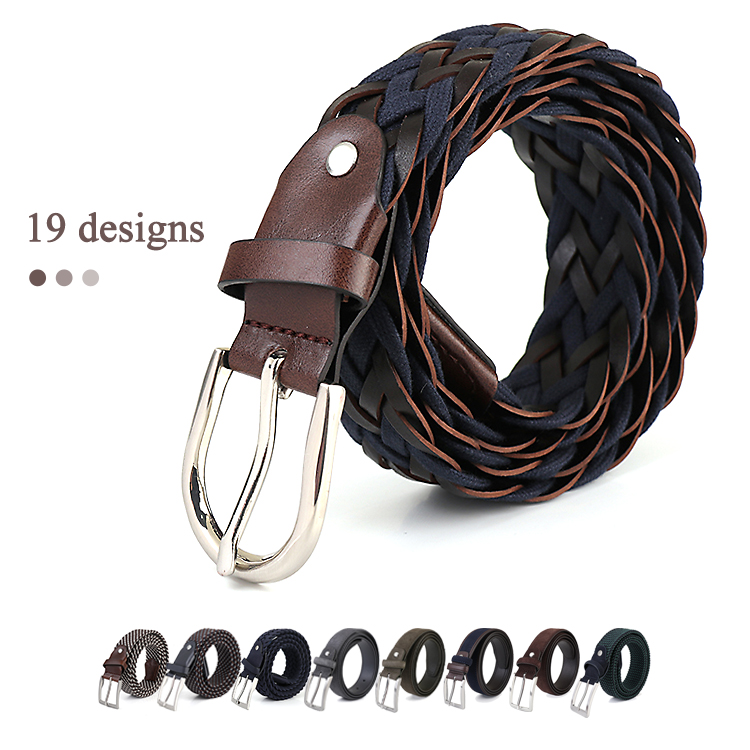 There are several reasons why men wear belts. Both weightlifting belts and military belts have uses. In addition to holding your pants up, belts are useful for attaching a knife, cell phone, or pager and sprucing up an outfit.Put that belt through your belt loops, and you may confidently leave the house without worrying about your pants falling down. Men may not have quite as many style options, but there are still a lot of belt options available.
Leather Belt
When it comes to men's fashion, a leather belt is the most traditional type of belt. Both robust and enduring, leather is also stylish. Black or brown leather belts are the most popular colors. If you pair your strap with a nice belt buckle, you'll be successful. There are various leather belt subcategories under this term.
Genuine Leather Belt:
A belt that bears the mark "genuine leather" must have a strap made entirely of leather; fabric or synthetic components are not permitted. This label can be attached to leather that has been bonded or sewed together.
Grain Leather Belt:
The full-grain leather belt takes things one step further. This is minimally processed after being sliced from the hide.
Exotic Leathers:
Although cowhide is the most typical material for a leather belt strap, exotic leathers like ostrich, alligator, and crocodile are also available.
Tooled Leather:
Another well-liked technique is adding a design to a belt by stamping. Only casual circumstances are typically appropriate for toled belts.
Suede Belt:
This kind of leather has a napped texture on one side, which makes it supple and pleasant to the touch. Black, brown, tan, blue, and gray suede belts are common, and they're typically used in casual settings.
Faux Leather
Artificial or synthetic leather is known as faux leather. Typically, polyurethane and polyvinyl chloride (PVC) are used to make it. Vegan leather, which is produced using more eco-friendly materials, is growing in popularity. Faux leather has several advantages over genuine leather, as well as some disadvantages.Faux leather is more affordable, strong, requires less upkeep, has a constant appearance, and is simple to work with. Faux leather, on the other hand, is not as tear- or puncture-resistant as genuine leather and does not stretch or breathe as well.
Dress Belt
Anytime fancy apparel is required, a dress belt or formal belt is also necessary. With a brown or black strap, a dress belt will appear more elegant. Put on a brown belt and brown shoes, or a black belt and black shoes.To keep the color looking uniform, choose between a traditional single prong buckle and an automatic ratchet design. Dress belts are often made of leather, although there are also some really good woven and synthetic choices available.
Casual Belt
An informal belt looks fantastic with jeans, shorts, or other informal attire. A casual belt might be made of leather, imitation leather, elastic, woven, or canvas. Black, brown, tan, gray, blue, and other hues are examples of colors.
Belt With Braid
A braided belt has a wide range of choices. You can get leather braided belts, tri-color braided belts, cotton/polyester braids with leather accents, and elastic braided stretch belts. For a night out or special occasion, look for casual or dressier options.
Snap Belt
The phrase "snap belt" can signify a few different things. There are belt straps with snaps that let you switch out the belt buckle that you choose to use. This phrase can also be used to describe a belt with a buckle that looks a lot like a seat belt and has male and female ends that snap together.
Reversible Belt
A men's belt that can be worn both ways is a great addition to any wardrobe. Owning a reversible belt, which often has brown on one side and black on the other, is like getting two belts for the price of one. These belts often come with a swivel buckle that can be switched to fit either side of the belt and are made of leather in most cases.
Military Belt
Nylon is typically used to create military belts, webbed belts, and tactical belts. These belts are lightweight, pliable, and able to support weight for anyone who need to carry tools or weapons. These belts can frequently be cut to the right size.They often don't have holes and come with a variety of buckles. To get through metal detectors and security checks with ease, military belts without any metal can be found.
Athletic Belts
When lifting weights, it is advised to use a lifting belt. The amazing belts worn by boxers and wrestlers are also well-known, particularly the champion-only wrestling buckle. Running belts can be useful for holding your belongings while you run or for adding reflective materials for safety.