Is a belt a requirement for formal wear
Views: 233 Author: Wendy Publish Time: 2023-08-28 Origin: Site Inquire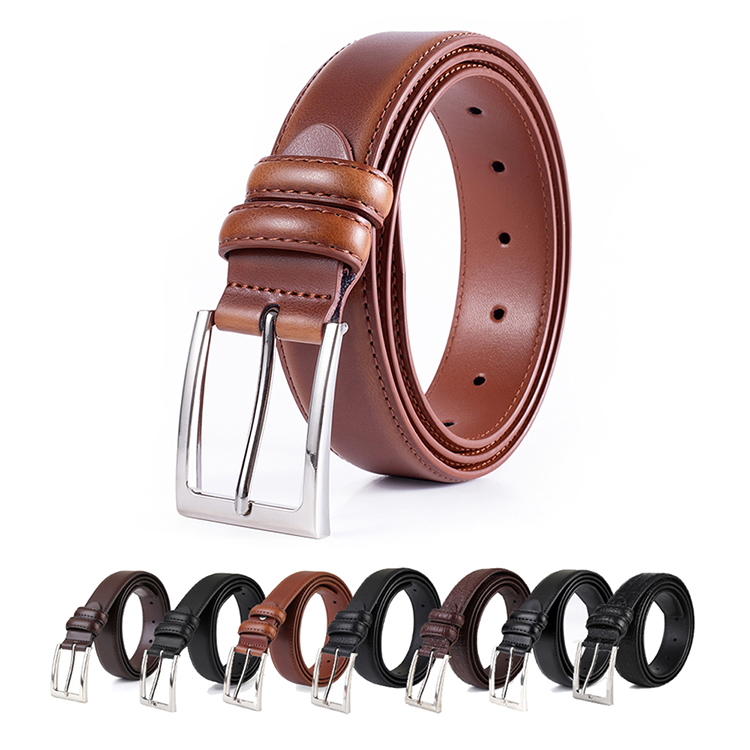 You may wonder whether you need to use a belt with formal pants on several instances. While it was traditionally thought that belts had to be worn with pants that had belt loops, modern design gives more latitude in this area. There are a few things to think about before deciding to ditch the belt, and we'll go over them in depth to make sure you're making the right choice.
Suitable Pant Fit
If your pants are too wide and need more support to stay up, you might need to use a belt. Prioritizing choosing pants that fit you properly above relying on a belt is crucial, though. It's important to have the proper pant fit, especially if you want to go belt-free. Too-loose or too-tight jeans might make you uncomfortable and detract from your overall appearance. Finding dress pants that are comfortable and stay up without holes or sagging is therefore crucial.
If you discover that your pants frequently come undone when worn without a belt, it might be time to experiment with various sizes or types. To get the ideal fit for your body type, for example, you may try small or tall women's jeans, depending on your height. You won't need to wear a belt if you discover the ideal pair of dress pants that fit you nicely and stay up on their own.
Not-Tucked-In Shirts
Another technique to avoid wearing a belt is to wear an untucked shirt. You can avoid wearing a belt by hiding the belt loops on your pants in the tail of your shirt. For a polished appearance, it's crucial to make sure your shirt is well-ironed and free of wrinkles. This is a fashionable and laid-back option for dress pants, particularly in more laid-back contexts.
Wearing A Belt When
There are some situations where it may be vital to wear a belt to complete your appearance and make you feel your best. For instance, you could want to dress up and make the most of all the components of your costume to present a polished appearance in formal or crucial business settings.In such circumstances, wearing a matching belt with your formal pants can be aesthetically pleasant and provide a uniform image. Similar to how a belt can assist finish off your overall appearance when you tuck your shirt in. The precise dress code and setting of the event will ultimately determine whether or not a belt should be worn.
Beltless Styles For Men
Men can certainly pull off the belt-free appearance in the right circumstances. The answer is yes as long as you adhere to a few rules if you're a man getting ready for a business meeting and wondering if you can omit a men's belt. If your dress pants don't fit properly, it's time to invest in some new ones. For a crisp appearance, wear them with the suitable shirts, such men's Oxford shirts.
Additionally, it's generally advised against wearing a belt when wearing a suit because it can obstruct the sleek lines and silhouette of the garment. Instead of emphasizing the belt, a suit should highlight the combination of the jacket, pants, and dress shirt. Suspenders are a unique and fashionable accessory for guys that offer additional support without the use of a belt in place of a belt.
Accessorize
When it comes to getting dressed for work, accessorizing may give your clothing a bit of individuality and flare, helping it stand out while still looking polished. Your entire appearance can be improved and your other fashion selections can be complemented with tasteful earrings and a lovely necklace. Think about selecting accessories that complement the hue or design of your clothing, or offer a splash of color to draw attention.
A dress scarf is yet another chic option for accessorizing. A silk scarf may add a touch of sophistication to your wardrobe and give you a sophisticated, polished look when it is tied gracefully around your neck or draped over your shoulders. To match your wardrobe and personal style, you can pick from a huge selection of designs and textures.
A Belt As The Accessory
A belt can be used to dress up your appearance in addition to its practical function of keeping your pants up. You might choose a belt that complements your shoes or go for one with a unique buckle to stand out. There are many possibilities, including embroidered belts, leather belts, and even eco-friendly belts made of recycled materials.
A high-waisted pair of flowy dress slacks with clean lines and a soft, billowing shirt look terrific with a thick belt with a glittering buckle. In addition to emphasizing your waist and giving your clothing a little extra flair and elegance, this combination can give you a chic and current look.
Make Dressing For Work Enjoyable
Even while getting ready can be enjoyable and creative, getting dressed for work may not always feel thrilling. Depending on the aesthetic you want to achieve, try out various poses with or without a belt. You can prepare your clothing the night before or spend some time in the morning selecting the perfect accessories.
You may find it simpler to choose whether to wear a belt or not after reading these insider tips and methods. To feel confident and at ease in your professional clothing, use accessories that match your personal style. You may improve the look of your attire and feel your best at work by adding the appropriate accessories.