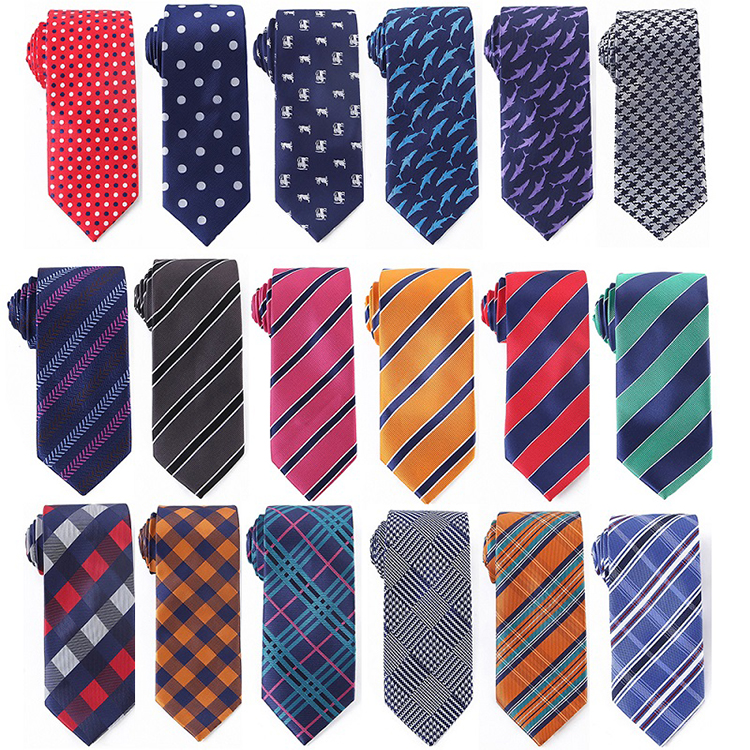 There are a few factors to take into account while picking the appropriate tie colour. You cannot simply don any tie, can you? At the very least, you must think so, since otherwise, you wouldn't be reading this.
Ties are designed to complete and enliven an ensemble. Additionally, they may be worn to showcase your individuality or coordinate with the occasion you're dressing for.
How do you determine the appropriate tie colour in light of this? Is there anything like that?
Choosing a Hue that Works Well with Your Shirt and Jacket
Picking a colour that goes well with your shirt and jacket colours is the simplest approach to ensuring that you select the appropriate necktie colour. Your outfit will seem more fascinating if you intentionally match your tie to other items of apparel. There are certain fundamental guidelines you may adhere to if you're unsure of what colours work well together.
Regardless, here are the three simplest ways to match the colour of your necktie with the rest of your outfit:
Select the same colour
The colour family is another synonym for hue. Basic colour theory divides the colour wheel into 12 distinct groups, which we refer to as hues.
For instance, the purest shade of blue is described as being the most saturated. Dark or navy blue and other shades of blue belong to the same colour family. The same is true of tones (moody blues) and tints (light blues). The colour blue is present in all forms.
Now, you're in luck if your tie matches the colour of your shirt or jacket. The two sections may then be put together with ease.
We refer to this as monochromatic pairing. It's the simplest technique to combine two parts.
Wear a bright blue necktie, for instance, if you have a light blue dress shirt and/or a dark blue suit coat! That's all there is to it.
Just be careful if you wear a much deeper or lighter shade of the same colour. This really aids in contrast. The post will go into greater detail later.
Pick a colour that contrasts it
If you like to be more overt, we advise using a tie colour that is noticeably different. Here is when complimentary hues are useful.
The hues on the opposite side of the colour wheel are said to be complementary colours.
We would have to select an orange tie rather than a blue one if we were to use the same example as previously.
Due to its complimentary makeup, orange blends well with all hues of blue. To provide a significant contrast with the light blue dress shirt and blue suit, we advise using a bright orange tie.
An ensemble like that is sure to get some notice.
Select a complementary colour
The following is for you if you want to wear a necktie that sticks out a little bit but not nearly as much as a complementary-coloured one.
Colours that are one colour family to the left or right of the primary hue are said to be analogous.
In our illustration, this entails selecting a blue-green or blue-purple tie. Both colours look wonderful when combined with blue.
For a dark blue suit, we'd advise choosing a classy mint-coloured (light blue-green) tie. Choose your clothing wisely. The same guidelines that we just discussed may be used to choose the ideal shirt colour.
Why Is Tie Colour Important at All?
We'll say it again: ties are designed to enhance and excite an outfit.
When choosing a tie, one of the most crucial considerations is its colour. The entire ensemble might be made or broken by it.
The colour of your tie should be carefully picked depending on your outfit, how you want to s appear,and the message you want to convey.
Which Colour of Tie Is Ideal?
It frequently comes down to personal taste or what would be most appropriate for the situation when choosing a tie colour. Additionally, the colour of your necktie should go nicely with either your dress shirt or your suit jacket, ideally both.
Of course, you may also select your necktie's colour based on the time of year, the colour of your hair, the tone of your complexion, etc.
The "ideal" tie colour depends on a variety of factors, so keep that in mind when choosing your colour. The brief answer to the query, "What is the ideal tie colour?" is that there is no ideal shade of tie.
But here's the imperfectly perfect quick response: Black is the optimum tie colour.
Black ties are refined and sophisticated and go well with practically any dress shirt and suit. Why?
The most popular colour for apparel is black. It is a fashion essential as well and almost never looks out of place in an ensemble.
Yes, there are some scenarios (like a child's birthday celebration) where wearing a black tie would not be the best option, but those events are uncommon and aren't even normally when you should be wearing ties.
Apart from that, black ties are perfect for formal occasions like weddings, funerals, and formal gatherings like business meetings. They are a fantastic option for almost any situation.
Black ties go with everything. We advise purchasing one.
Nearly all other colours, and most of them, contrast nicely with the "colour" black. Additionally, black ties are the best choice because of this.
A black necktie normally provides a sharp contrast to the colour of your shirt and aids in giving an outfit the attention that is so frequently lacking.
It helps to highlight dark facial features like your hair and eyes while deflecting just the perfect amount of attention away from your face. A suit and tie outfit may have a stronger "masculine look" as a result.
Therefore, if we were to choose just one necktie from our collection, it would undoubtedly be a black one.
Whatever tickles your fancy, just remember to adhere to the colour matching rules we provided at the beginning of this post to ensure you pick the appropriate tie colour for the ensemble.
Never forget that when it comes to tie colour, there are no immutable laws. So perhaps you should simply enjoy trying different things until you discover the ones that suit you and what you enjoy wearing.