Do you want to wear a gold tie?
Views: 306 Author: Wendy Publish Time: 2023-07-05 Origin: Site Inquire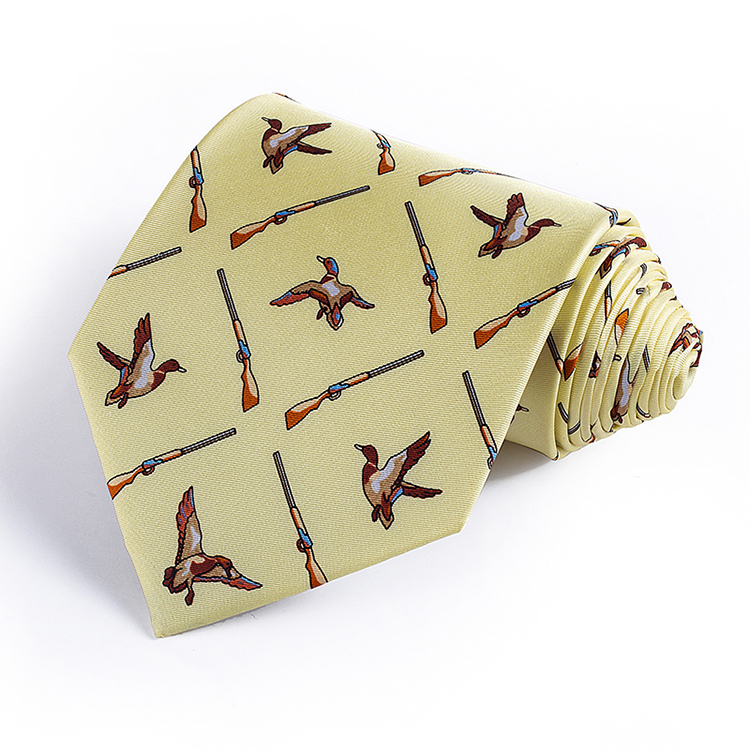 What your necktie reveals about you
Your image might be greatly influenced by the tie you choose. Whatever impression you want to make, your accessories will help you achieve it, and your tie is the best accessory for the job. Consider this. You can get ties in almost every color or design, including red, blue, orange, yellow, green, purple, polka dots, stripes, paisley, and even small cartoon figures (though that's a completely different fashion faux pas that you should really reconsider). In the end, a tie is what makes a man, so your tie should speak highly of you. So consider this: When is a gold tie appropriate?
Do know what a color says about you
We are all aware that some hues are regarded as "power" hues. This color is most frequently red. However, sometimes you either don't want to be extremely pushy or a red tie doesn't go with the aesthetic you're looking for. Perhaps you still want to flaunt your dominance and strength without going overboard. Bring out the gold tie at this time. A gold tie conveys confidence and class whether you're attending a job interview, embarking on a first date, or closing a significant business deal. Gold ties are frequently worn when you wish to look powerful yet nevertheless approachable.
Both a plain white shirt and a French blue dress shirt look terrific with gold ties. But take care when pairing your gold tie, or you can end up looking like you're heading to the prom. Because of this, it's crucial to combine your gold tie sensibly. It's a striking color option that may still be rather eye-catching on its own even though it's not as confrontational as a red tie.
Avoid wearing colors that contrast with your skin, hair, or eyes
Of course, keep in mind that not all colors look excellent on men. For instance, the seasons hypothesis suggests that you should wear various "seasonal" colors depending on the tone of your skin, the color of your eyes, and the color of your hair. This rule applies to both your entire look and your accessories, such as ties.
The "autumn" group of men look best in gold (and gold ties). You have ivory-colored, peach-colored, beige-colored, or golden-brown skin, so. You can have strawberry blonde, auburn, red, brown, blonde, black, or gray hair. Brown, green, hazel, aqua, or turquoise are all possible eye colors. We understand what you're saying—this sounds very much like every male. However, if you read more about the seasonal idea at the aforementioned link, you'll notice just how much of a difference teal eyes can make compared to aqua eyes, and vice versa. They therefore look their finest in gold.
Do understand the distinction between gold bow ties and gold ties
Of course, there are gold bow ties in addition to gold ties. Whether your bow tie is mostly matte, has a little bit of glitter, or is even two-toned, like a black and gold tie, these are a little more formal and frequently a little more shiny. No matter what, a gold or black and gold bow tie will make people notice your attire, so you better be dressing accordingly. They should not be worn to brunch or job interviews, unlike the matte gold tie that was mentioned earlier. In fact, it's advised against wearing a bow tie to sales campaigns or interviews because it will draw attention away from what you're saying and instead draw it. Yes, there is a significant distinction between a bow tie and a plain tie. Consider festive gatherings and wonderful evenings out when wearing gold bow ties. A gold bow tie is primarily an evening and nighttime accessory; never, ever wear one to an event in the morning or during the day.
Do pay attention to fabric choices
Similar to how some colors work best for formal or casual occasions, so do some textiles. Please save the cotton and linen bow ties for morning weddings and church ceremonies and keep them away from the gold. However, the satin and silk bow ties look fantastic in gold and may be worn to formal and evening gatherings.
In general, you can pair a more showy dress shirt with a gold bow tie that is more matte and less sparkly. The same holds true if you're donning a black bow tie. However, you might want to keep your shirt on the subdued side if you're sporting a gold bow tie with a bit extra sparkle or a black and gold bow tie.