Design your own scarf according to spring
Views: 233 Author: Wendy Publish Time: 2023-08-28 Origin: Site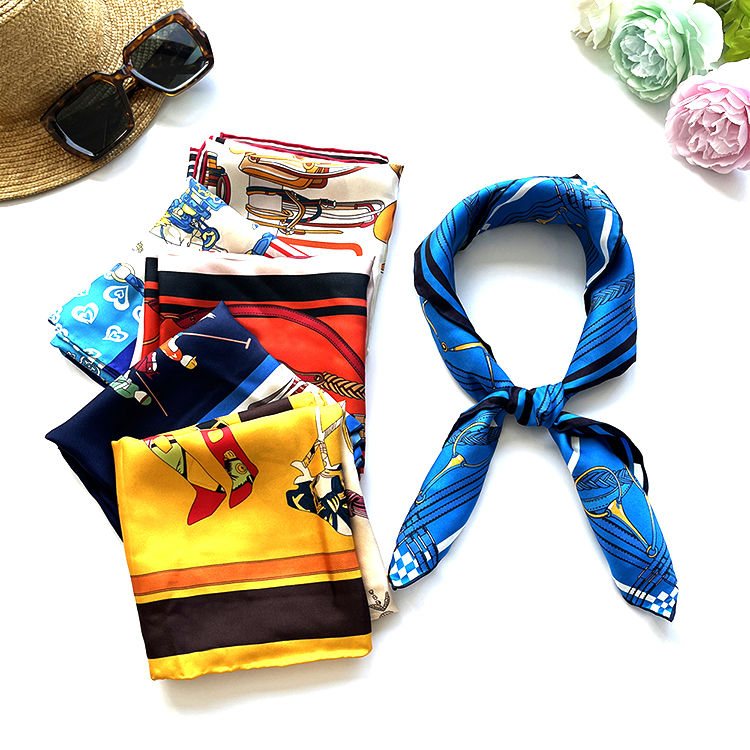 Use an accessory like a scarf to instantly improve any outfit. We have all the advice you need on how to style your scarf in spring so you don't seem like your grandmother when you wear one. You can wear scarves on days when it's not cold outside. As we make the transition from a chilly winter to a crisp spring, they are also intended for use as accessories. We've put together a few simple options for how to tie a scarf because there are so many different ways to wear one. These are great for spring.
Selecting Colors For Spring
You should select scarves for spring that feature traditional spring hues and patterns. Spring patterns can also feature seasonal veggies or creatures like bunnies in addition to florals. You'll be sporting some pastel green, coral, and light blue clothing. Very Peri, the new Pantone color for 2022, is a stunning combination of red-violet and blue that is also promising for spring scarves.
Once Wrap Your Neck In
To have a carefree appearance, simply wrap the scarf once around your neck. This scarf style is ideal for scarves with interesting features, such as tattered edges. When your scarf features pom poms or tassels that would make it impossible to knot more than once around your neck, this is an easy look to style. With a white midi dress and tan mule heels, pair the draped scarf. Use a crochet tote bag or bag to complement your outfit.
Wrap A Scarf Around
In order to achieve this style, cross the scarf's two ends together, and then pull the loop it creates tight around your neck. You can just move the knot to the side to create a relaxed, slightly off-center look. With jeans and white booties, you can combine this scarf style with one of our vibrant women's cotton sweaters in spring hues like yellow and pink.
Maintain Knots At The Ends
Avoid tripping over your scarf if it is particularly long. Instead, make knots at both ends of the scarf, allowing it to hang around your neck with the knot ends on either side of you. Use a coral, pale green, or cerulean scarf to complete a spring-inspired ensemble. To wear a belted scarf, you can even wrap a belt over your midriff. A women's cardigan sweater looks great with this kind of scarf style.
Knot It Twice Like A Pendant
Make a double knot on your scarf and place it in the middle of your body to resemble a pendant necklace in place of a necklace. With a sweater dress, you may get this sophisticated style. Choose our women's lounge crew neck dress from our newest Slounge line if you work from home or want a relaxed yet fashionable look. This dress is so cozy thanks to the soft jersey material that you could almost fall asleep wearing it. Put on the double-knotted pendant scarf with this outfit. Check out all of our women's dresses if you adore this dress.
French Twist It
The French influence adds a dash of vintage sophistication. Here's how to knot a scarf if you've ever wondered how flight stewards do it. Wrap the scarf around your neck by taking the opposing corners and folding them alternately inward and toward the center. Your neck should be in the middle of the scarf. Pull the scarf forward as you wrap it around, crossing the ends behind your neck. Put a single knot under your chin, in the center. Tie a double knot, slightly twist it to one side, and let the ends hanging loosely. The French twist may be worn with practically any type of top, including collared shirts and women's v-neck long sleeve t-shirts.
Put It On Your Hat
Tie your scarf around the hat's band to show your straw hat some love. A floral or pastel dress goes well with this cute outfit. Wearing a denim jacket, a straw hat with a scarf wrapped around it, white pants, and a t-shirt can give your look a little of edge. It has just the appropriate mix of fun and sophistication, and it's a little bit casual and irreverent.
Affix A Scarf To Your Bag
Tie a scarf around your luggage for a stylish method to carry a larger scarf that feels or looks more like a shawl. It also gives any neutral or boring pocketbook that could use an accent piece a little personality. Let's imagine you have the AC blasting as you commute or travel to the office. A scarf will be necessary to keep you warm, and the best way to carry one is to tie it neatly around the handles of your purse rather than dumping it in the bottom of your bag. For tying around a canvas tote bag, use the scarf around the bag technique.