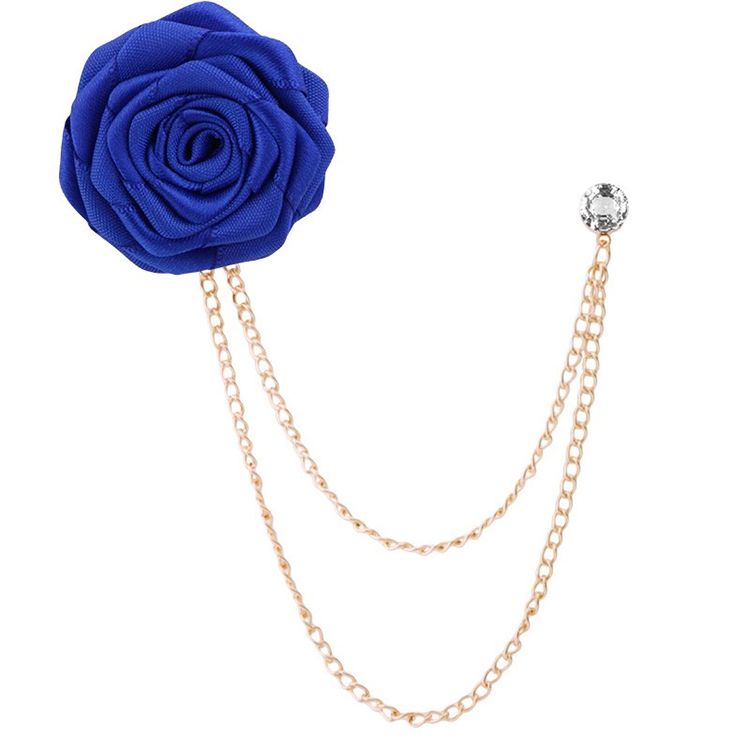 In recent years, lapel pins have returned. For many years, they were exclusively worn at life's most formal occasions, but nowadays, more and more dashing gents are seen sporting them while going about their regular lives. Since the tight guidelines for formal gatherings have been relaxed and the danger of coming across as ham-fisted and incompetent is too great, this has complicated the art of wearing them once again. But when done well, a lapel pin is a fantastic illustration of a small accent that can give your ensemble a distinctive flair.
HOW ARE LAPEL PINS WEARED?
There is only one unbreakable rule regarding lapel pins: Place them roughly where the buttonhole would be on the collar. That is the left lapel's top portion.These buttonholes can be found on both lapels of some double-breasted jackets, however lapel pins should always be positioned on the left. There is a lot of room for risky experimenting with lapel pins, but keep in mind that this should only be done with the pin itself. Instead of straight up or across, the pin should be positioned such that it runs parallel to your lapel. For longer stems, where the improper angle might destroy the aesthetic, this is especially crucial.
HOW SHOULD I SELECT A LAPEL PIN?
Once more, this depends entirely on your personal preferences as well as your attire and the situation.The standards for color, design, and size aren't really specific, but there are a few decent general guidelines to follow.
Metal Pins:
Try to coordinate your lapel pin, cufflinks, tie clip, belt, watch, and any rings with the metal in your clothing. Go all-gold or all-silver, then.
Bright, Vivid Lapel Pins:
Bright, vivid lapel pins usually look best when worn with a neutral-colored shirt so that their contrast can stand out. Just be careful not to contrast it with any other colors you may be wearing. It helps to have a basic understanding of color theory and some typical combinations.
Pins With Pastel Or Vivid Colors Or Pins :
Pins with pastel or vivid colors or pins with flowers are more understated and go nicely with other accessories.Additionally, they are frequently more whimsical than bolder items. For instance, if the pin has a hint of metal, you may pair a light green shirt with a dark blue suit. Even lighter hues ought to, nevertheless, always go with your necktie or pocket square.
Last but not least, keep in mind that the primary objective of dressing is to emphasize your own physical and facial features. Instead of making everyone look at your lapel, the idea is to have your pin blend in with everything else you're wearing so that the focus is on your face, which is what really counts. When in doubt, always keep in mind that less is more and that it's preferable to slightly underperform than to come across as a buffoon.
WHEN SHOULD A LAPEL PIN BE WEARED?
These days, the decision is totally yours. There are essentially no occasions where you can't wear a lapel pin, yet some do require one or the other due to tradition or a dress rule.But before you decide which pin you'll wear, consider the kind of event.Even when scaled down, boutonnieres and flower pins are best suited for social events because they are typically more formal and flamboyant. Consider a more understated, silver pin that still attracts the eye but is less floral if you want to accessorize at work.