Beautiful Hairstyles With Silk Scarves
Views: 252 Author: Bella Publish Time: 2023-08-25 Origin: Site Inquire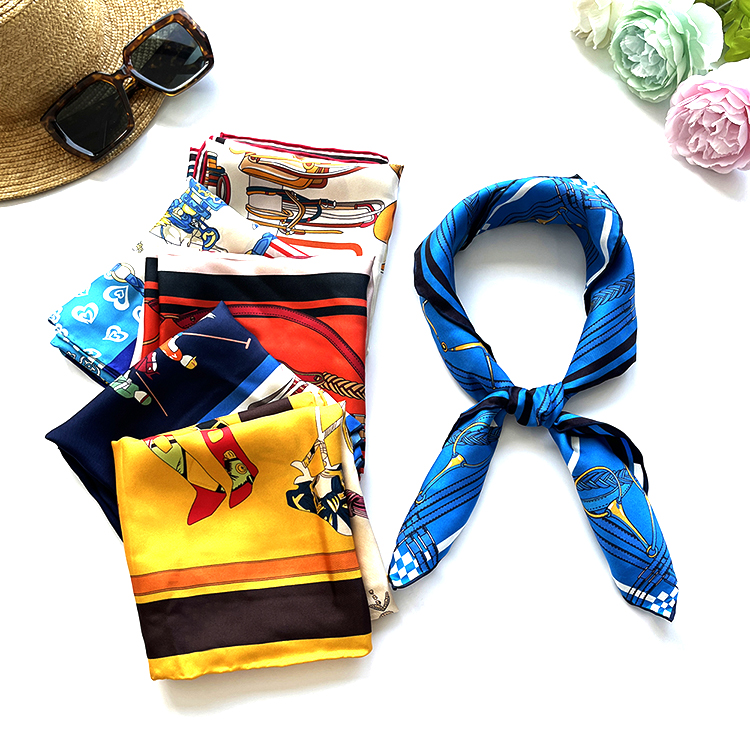 Using a silk scarf to style your hair is one of the chicest looks. The way it is wrapped gives the hair a sophisticated appearance and feel. It isn't just a headscarf anymore. It can be used to keep your hair back, tie up your hair, or place it in a bun.
The scarf may be styled in a variety of ways to give you varied looks. Silk scarves are an adaptable piece of clothing that may be worn in various ways. They are fantastic since they fit a variety of hair types and lengths.
We've put together a list of the various ways you can wear your scarf to help you get started.
The Hobo Style
Do you believe your hair is too long, yet you adore the hobo look? A silk scarf is the ideal accessory for a hobo appearance.
Tips for Style: Wrap your hair with the scarf. Make sure you wrap the scarf over your hair and knot it up tightly. Use a hairpin to fasten the silk scarf at the opposite end of your hair. In addition to keeping your hair tied up, the scarf will give it volume and texture.
Romantic Design
If you want to look classy, wearing a scarf in your hair is the ideal solution. You can create a lovely side bun or tie it up in a bun. The scarf is a lovely addition to your ensemble.
Tips for Style: Shield your shoulder with the scarf. Put the scarf on your head by pulling it over. Hairpin it to keep it in place. Next, secure your hair in a side bun or a bun.
Madonna Fashion
The traditional Madonna style involves wearing your hair up and away from your face with a huge hairpiece. This outfit requires the use of a scarf, so make sure to use one.
Tips for Style: The scarf should be placed behind your head. A portion of your hair should be brought from the sides to the centre and tied off with a scarf. Next, use the scarf to tie up all of your hair. Put your hair up in a bun to complete the appearance.
Current Bow Fashion
Putting a scarf in a bow on your hair is a stylish hairstyle. The bow can be worn wherever you like—on the side, behind, or in another location.
Tips for Style: Wrap your hair with the scarf. Make a knot out of it. After securing the scarf with a hairpin, wrap it around your hair several times. Wear the scarf in your hair after tying it into a bow.
The Russian Princess Look
Showcasing your lovely, long, opulent hair is a must for the Russian look. How can you go about doing that the best way? It's by tying a silk scarf around your hair, in my opinion.
Tips for Style: Tie the scarf around your head's crown. Tie your hair up into a ponytail after wrapping it around the scarf to keep it in place. The scarf should then be wrapped around the ponytail and fastened with a hairpin.
Style of Audrey Hepburn
If you adore Audrey Hepburn's elegance and sense of style, you will enjoy accessorising your scarf in her likeness.
Tips for Style: Tie the scarf around your head's crown. Pull the scarf's ends over your head and fasten it with a hairpin.
Hairband Combo
Use a silk scarf as a hairband if you'd rather not spend time styling your hair. It's useful for pulling your hair back into a ponytail.
Tips for Style: Tie the scarf around your head's crown. A portion of your hair should be brought from the back of your head to the front, and it should be secured with a scarf. Use the scarf to tie up the remaining hair. For the last touch, secure the scarf with a hairband.
Conclusion
Here are seven stylish ways to tie a scarf. Try experimenting with the styles to find the one that works best for you. Play around and be imaginative. A scarf can be worn however you choose. Try out several scarf designs to see which one you like the best. You can experiment with different hairstyles by tying your hair to the scarf. Don't forget to have fun when creating your own outfit!