A Deep Black t-Shirt With Suspenders
Views: 263 Author: Kaylee Publish Time: 2023-09-08 Origin: Site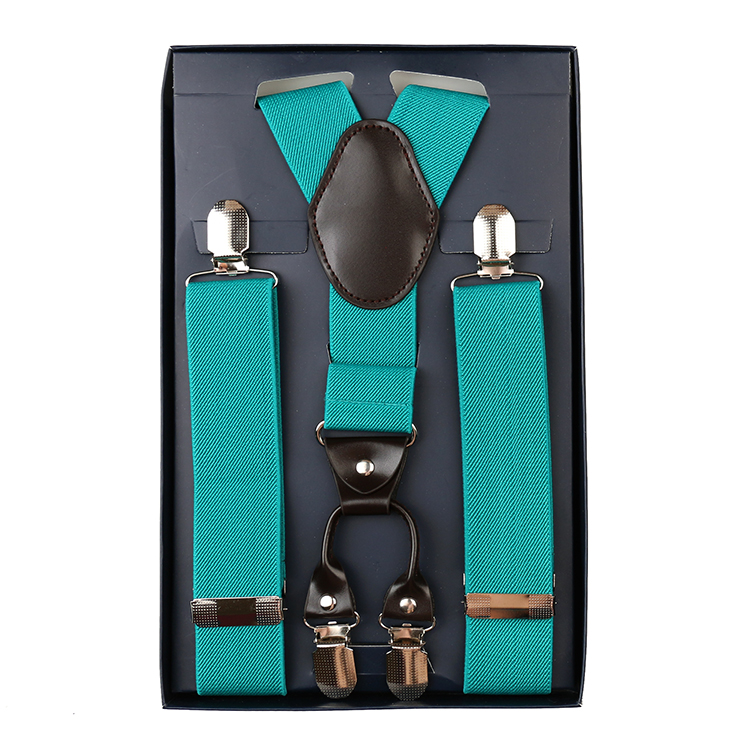 There is a suspender for every situation, as we frequently say. Suspenders are definitely not regarded as official or extremely fashionable for specific events, despite some people's claims to the contrary. We've recently noticed an increase in inquiries regarding donning suspenders with merely a black shirt as the weather starts to warm up again. Many of our clients insist on wearing suspenders for laid-back and informal occasions. Why would you, too? You'll be able to pull off suspenders every day of the year with the appropriate pairings!
Black With Light Hues
There are a few exceptions to the general rule that you should never wear suspenders that are a deeper color than your shirt when wearing black clothing. The ability to make the most of our lightest colors is provided by wearing black. Consider our off-white duck model. Your favorite black attire will undoubtedly look a little more stylish thanks to the canvas fabric. Any pair of light-colored suspenders will work with this. Therefore, make sure to look at our models that are compatible with the style shown in the photographs below if you like it.
The Traditional Black Look
We are now aware of the possibility of lightweight suspenders. But you might not like this. Perhaps it doesn't fit your taste or you don't like our models in light colors. Alternatively, it's possible that you just don't have one in your closet and are considering purchasing the other model you've had your eye on for a while. Don't write out the classic black look just yet if bright suspenders don't work for you for any reason!
We can all agree that few things have the same timeless appeal as an all-black ensemble. So why not stick with wearing all black? Use suspenders that are at least as dark as your shirt to pull off this traditional look. Brown accents or undertones should be avoided because no color is darker than black. We'd suggest the all-black E5010 if you're not limited to leather materials. This particular design is intended for people seeking all-black attire. Even the clips on it are dark! There is always the opportunity to customize them with our black accessories if you decide on a different model but end up enjoying one without black connectors or pieces.For the Crazy Horse F2111, for instance, black lobster hooks might be used in place of the originals. If loops are more your style, we also have an all-black loop clip set and button set.
Description Of Black
However, the issue is more complicated than merely being all black or all white. Making a statement is possible when wearing a black shirt. It may be difficult for your all-black ensemble to draw notice, but your suspenders' pattern is more likely to do so.Consider our WTF Statement edition. You already know what WTF stands for, right? We challenge you to embody the adage by donning these fantastic suspenders over a black t-shirt. Alternately, you might wear our striking suspenders with your all-black outfit. a little bit brave for you? Maybe just use our branded ACE Wiseguy suspenders to make a statement. For those who like the all-black or ton-sur-ton style but still want to make a statement, they are also available with dark gray branding. There isn't much better than that, honestly.
T-Shirts, Long Sleeves, Hoodies And Blouses
Have we piqued your curiosity and captured your attention, but do you still lack the essential deep black clothing pieces in your wardrobe? We have your back. A completely new world of Wiseguy Original clothing has been created in our Everyday Essentials range. Fashionable T-shirts, a 3-button Henley shirt, hoodies, even boxer shorts, and beanies are included in this all-black assortment. What's best? Everything that you can see is made of GOTS-certified organic materials. These fundamentals, which come in both overt and covert Wiseguy branding options, will give you the pleasantly casual appearance you're striving for.