7 fashionable ways to tie a square scarf
Views: 201 Author: Wendy Publish Time: 2023-06-16 Origin: Site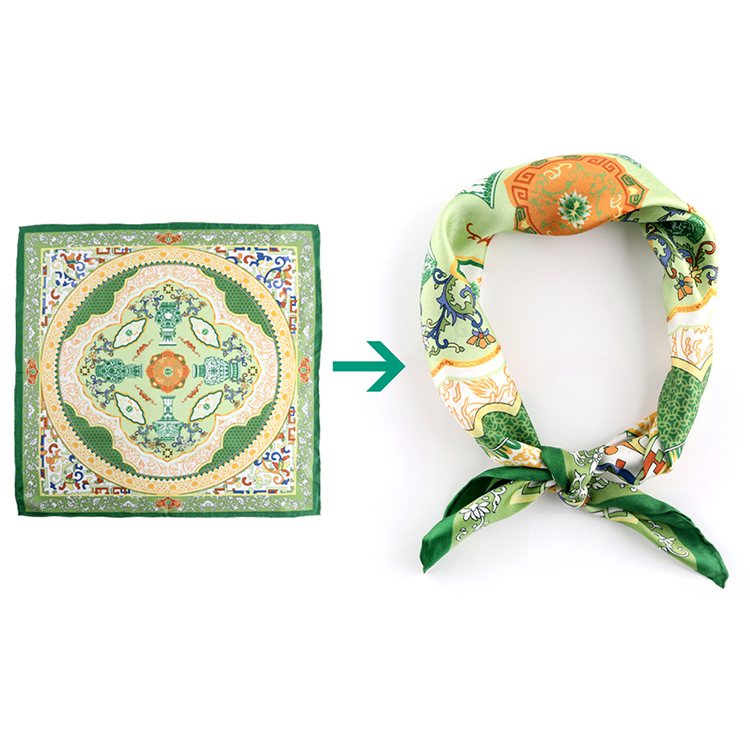 The newest fashion accessory trend is silk square scarves, which are also simple to wear.

They are among the most adaptable fashion accessories available, in our opinion. They may be worn in a variety of ways to add style to practically any ensemble, and they not only come in a wide variety of colors and designs. A high-quality silk scarf is a great investment for your wardrobe because it will last for many years.
Here are seven ways to use square silk scarves, commonly known as foulards, if you want to experiment with the trend or just want to spice up your style. Remember that there are simply guidelines when it comes to fashion, not rules, so don't be afraid to experiment and develop your own look!
In order to provide video instructions on our top 7 favorite ways to knot a silk square scarf, we teamed up with Mira, a well-known fashion influencer with her own fashion blog.
1.The Knotted Necklace:
This is a wonderful way to add a sophisticated touch to any ensemble, day or night. You may wear it by itself or vary the appearance by adding a long string of pearls or beads.
2.Dressed as a Cravat:
Nothing gives your outfit instant gloss like putting a silk square scarf loosely around your neck. This straightforward scarf design works well whether you're headed to a business meeting or going out for lunch.
3.Half-Bow:
Here is a charming technique to knot a silk square scarf that seems best when you are wearing an outfit with a straightforward neckline, like the turtleneck Mira is sporting, a v-neck, crewneck, or boatneck. In summary, your outfit's straightforward neckline will highlight this fantastic technique to wear a silk square scarf.
4.Soft Folds:
This is one of the knots that our customers love to tie their silk square scarves in, and for good reason—it brings out the design of the scarf while also looking quite stylish.
5.The Ideal Knot:
This knot is lovely and elegant with a polished appearance. Perfect for wearing with work clothes or whenever you want to seem professional.
6.Ladies Ascot:
This traditional and simple method of tying a square scarf is ideal for donning a jacket.Simply changing the scarf may transform the appearance of your jacket!
7.Using a Double Loop:
This scarf tie will quickly become a favorite since it is stylish and laid-back. As Mira is demonstrating in this photo, it's the ideal look to pair with a button-down shirt.