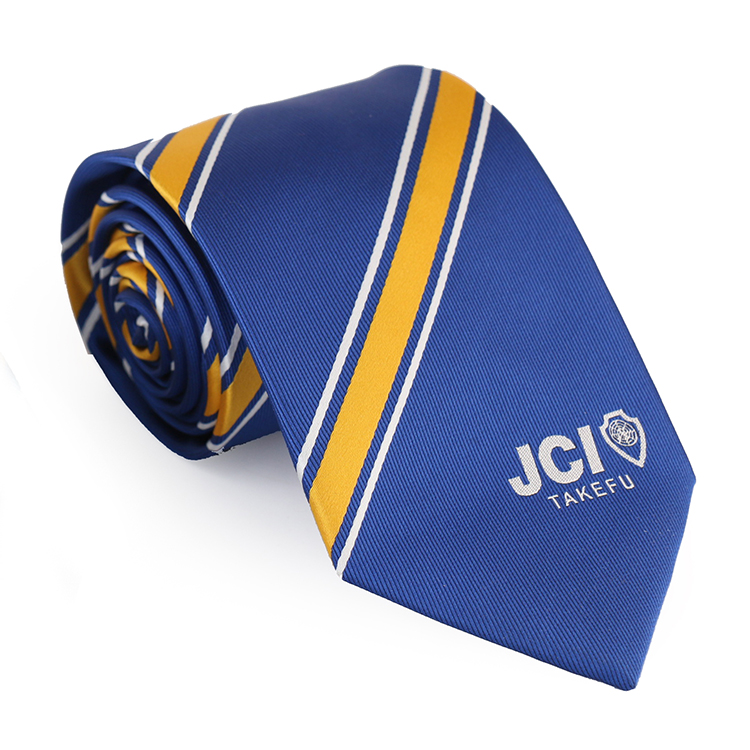 1.A Dark Solid Color Tie
Except for this one, this list doesn't have a particular order. A solid-color tie is a must-have for any man. Two suggestions exist for solid colors. Choosing a solid burgundy tie is your initial option. The dark hue works well in more informal settings as well as formal ones. Solid black ties, however, go well with practically everything. Doing it in a good suit? Black ties fit in perfectly. Do you want to look dressy casual? Wear a white button-up with a loose-fitting black tie. This is the tie you need in your closet, even if you only wear ties sometimes.
2.A Striped Navy Tie
The simplest way to add pattern to your clothing is using striped ties. They are formal enough for the office and easy to match. The history of stripes can be traced back to British military regiments, and they still maintain a neat, polished appearance while bringing in an extra pop of color that is absent from a single color tie. Dark blue striped ties are the best option for a timeless appearance. The tie blends very effectively with the majority of other colors because to the deeper blue hue. Because of how subdued the design is, it won't significantly detract from the rest of your outfit.
3.A Plaid Tie
The pleasure of plaid ties. Because of their distinctive designs, they frequently serve as the focal point of your ensemble, therefore it's crucial to match well. It looks good with a straightforward suit or a plain button-down shirt, but bear in mind that plaid ties are virtually usually informal. Consider our dark red Jeffrey if you want a plaid tie for work rather than one with more vibrant colors. The more like a striped tie it is, the more appropriate it is for the workplace. You should be able to locate a minor plaid pattern to add interest to your tie rack even if you don't like louder patterns.
4.A Paisley Tie
Some people find paisley ties scary. They can be challenging to match since they are nearly always the most intricate pattern that is offered. But if you don't possess one, we believe you're losing out. Possibly reaching back to the third century, the paisley tie has some of the most fascinating fashion history accessible. Since then, it has become into a famous fashion trend that few guys try. Recognizing that a paisley tie is part of your ensemble is the key to wearing one well. Choose simple-looking suits and shirts that complement the tie well, ideally in solid hues. Paisley ties, when worn properly, look wonderful at work and convey confidence and charisma.
Don't let difficult matching deter you from trying paisley.
5.A Bow Tie
Even if you don't intend to ever go to a black tie event, you should always have a bright bow tie in your closet. You may nearly always replace a typical necktie with a comparable bow for casual attire. A little bit of casualness may result from the trade, although subdued pattern bows are typically still appropriate for the workplace. Bow ties are also wonderful for trying new things. Why not fully commit and attempt a new pattern on a bow tie if you're hesitant to do so? Bold patterns can be passed off as eccentric and are typically more acceptable in bow shape. Even while it might be challenging to learn how to tie a bow tie, the attractiveness of a slightly imperfect bow is almost indescribable.