Stylish and Interesting Ways to Wear Scarves During the Summer
Views: 263 Author: Bella Publish Time: 2023-08-22 Origin: Site Inquire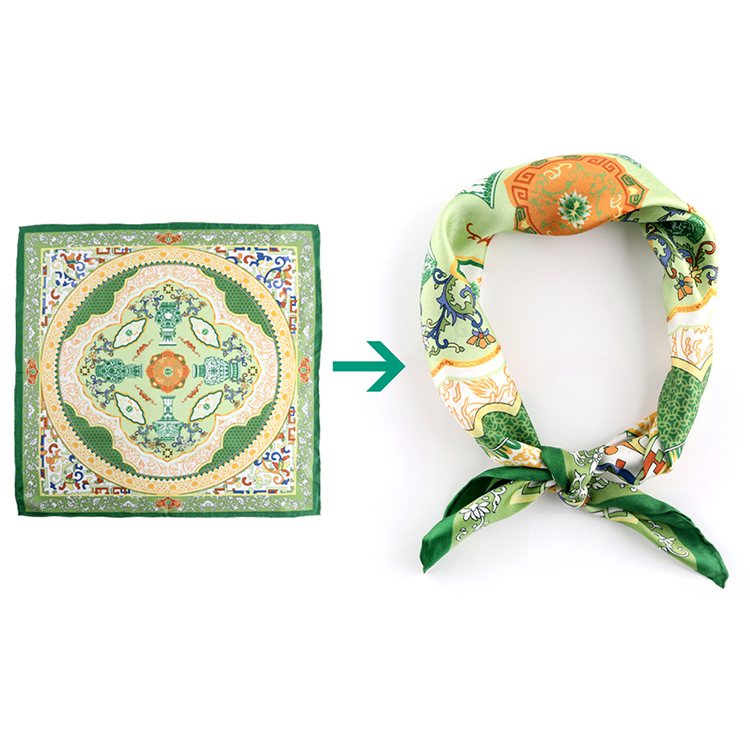 Scarves have been used as part of people's wardrobes ever since Queen Nefertiti of Ancient Egypt wore one for the first time, which was during the time of Ancient Egypt. Scarves have been around for quite some time now. Scarves are now worn all year round for a variety of reasons, such as to keep one warm or cool, to look more sophisticated, or simply for practical reasons, and no one can deny that scarves have become an essential item.
Scarves are available in a variety of designs and fabrics, but during the warm summer months, the timeless silk scarf is the one to have. However, you should not fall into the trap of believing that classic implies uninteresting or out of date because timeless silk scarves have the ability to quickly elevate any simple outfit.
The Look of Grace Kelly
The elegant ensemble gained notoriety because of Grace Kelly, a Hollywood actress. The essential item in this ensemble is the traditional silk scarf tied beneath your chin, which is followed by a fitting jacket or crop top, a skirt or pair of trousers, and a pair of sunglasses. You're set for a night out when you accessorise with a shoulder purse and high heels!
The Headband of Audrey Hepburn
Making a headband out of vintage silk scarves is another common use for them. This style looks well with jeans, a skirt, or a dress. Simply fold a square silk scarf into a triangle. Next, secure it behind your head, ensuring that the ends of the scarf are visible. Voilà!
Knot for Cowgirls
The saying goes, "Everything old is new again." So embrace the western style by tying a cowboy knot in your basic silk scarf. This style looks great with a lovely little skirt or even jeans and a tee. You just tie a square silk scarf around your neck and proceed to wrap it like you would with any other scarf. After that, just tie the two ends together to be ready to travel.
Traditional Loop
You may also wrap your standard silk scarf into a loop for a dressier appearance. It's really that easy: just form a circle with your scarf and knot it at the end. We adore this outfit for heading to the workplace or running errands around town. It is both basic and complicated.
A Belt With an Adjustment
Using a classic silk scarf as a belt is another way to accessorise it. This goes great with fancy blouses or casual ensembles like jeans and sleeveless shirts. All you need to do is take your silk scarf, loop it around your waist, and secure it with a knot.
The Sybille
There's no law dictating that scarves must be knotted. Alternatively, you may just loop them over your neck to create a trendy and fashionable statement. This style looks well with a casual dress, jeans, a blazer, or a shirt. You just need to take your scarf, fold it into a triangle, and tie it across your shoulders to get this appearance.
Conclusion
These are just a few suggestions for ways in which you can update your wardrobe with timeless silk scarves during this time of year. They are timeless, fashionable, and adaptable, making them suitable for a wide variety of events and situations. Always bear in mind that the secret to successfully accessorizing with silk scarves is to keep the rest of your look uncomplicated. You don't want your clothing to be overly busy, since then attention will be drawn to the scarf instead of you.
Check out what we have to offer if you are in the market for beautiful silk scarves that are not only incredibly plush but also have one-of-a-kind patterns. You can instantly elevate the look of your everyday ensembles by adding one of our timeless silk scarves. Discover right now the ideal silk scarf that satisfies your preferences.