Scarves are the best clothing accessories
Views: 232 Author: Wendy Publish Time: 2023-08-28 Origin: Site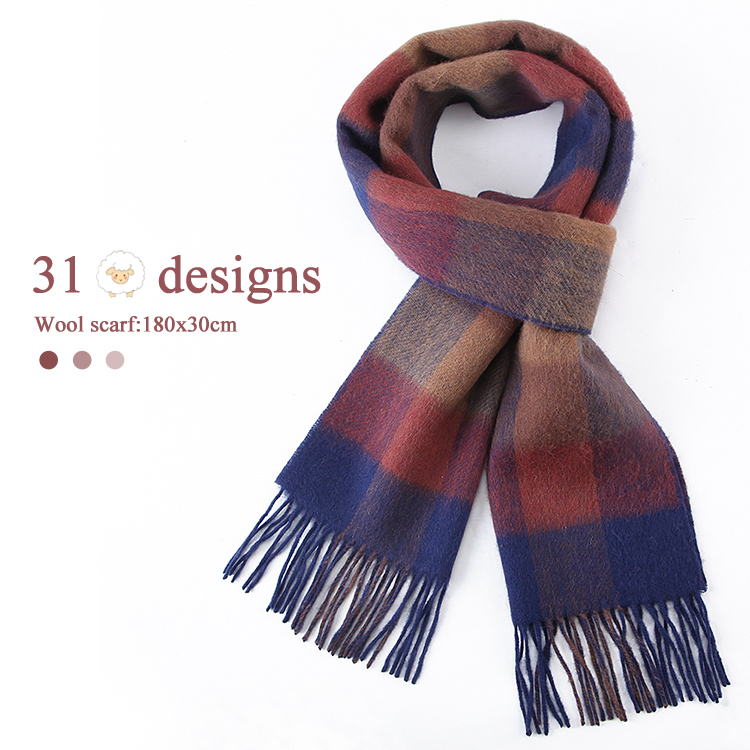 To enhance your ensembles and stay warm, add scarves to your fall and winter collection. In the spring, scarves are also appropriate. Some women's fashion scarves are even appropriate for wearing in the summer. Discover why we adore scarves as accessories and several unique ways to wear them by reading on.
Scarves Have Many Uses
The fact that scarves are so adaptable is one of the reasons they make the ideal accessory. A scarf can be tied in a variety of ways to produce infinite looks. You can choose a straightforward drape or opt for an asymmetrical appearance by lowering one end of the scarf relative to the other. The scarf's one end can be looped and tucked or thrown over the opposing shoulder. To choose your preferred scarf-tying technique, experiment with a variety of methods.
Scarves Have Practical Uses
In the fall and winter, a scarf serves many purposes than merely aesthetics. When the weather is chilly or downright cold, adding a scarf to your attire will increase its level of warmth. When it comes to scarves for chilly weather, some of our favorites include:
Fleece: Polyester fleece is one of the coziest, winter-appropriate textiles. Polyester fleece scarves are available in a range of colors, including vibrant hues and neutral shades. Scarves come in a variety of patterns, such as animal print and buffalo check, that range from traditional to striking. For cozy warmth, wear a women's fleece jacket with a fleece scarf.
You can never go wrong with a cashmere scarf or scarf-and-hat set, whether you're looking for a gift or want to spoil yourself. An extremely luxurious natural fiber noted for its unmatched quality, unbelievably smooth texture, and airy warmth is cashmere. For a classy appearance, pair one of these scarves with a cashmere women's sweater and formal slacks.
When looking for a scarf for the fall or winter, you can come across CashTouch scarves. This synthetic fabric was created to have the appearance and texture of cashmere at a more affordable price. Your fall or winter attire will appear upscale with CashTouch winter accessories while remaining quite toasty.
Other acrylic scarves to think about for cold weather are traditional Fair Isle scarves with a rib-knit trim or ornamental fringe. The Fair Isle design never goes out of style and comes in a variety of color schemes, and acrylic is the perfect fabric for winter because of its insulating warmth.
Another pleasant material for scarves in the fall and winter is chenille. Its silky, almost nubby texture makes it the ideal blanket. Put a chenille throw blanket and matching chenille scarf in a box if you want to give them a nice gift that they will cherish using.
Scarves constructed of fabric blends are occasionally available. You can match an Aran knit scarf with a sweater that has the same knit and color by choosing one made of a poly/acrylic blend. In addition, using one of these scarves with a wool coat will provide you with adequate warmth and a timeless winter look.
Using A Scarf Is Cozy
On gloomy days, wearing a scarf, shawl, or wrap can keep you warm and give you a nice, comforting feeling. Just about any fall or winter ensemble can be dressed up with a belted shawl wrap in a classic plaid pattern.One of these fringed wraps looks great with turtlenecks, skinny jeans or leggings, and boots. Women's maxi dresses can also be layered underneath one of these shawl wraps with a bohemian feel.
All Seasons Call For Scarves
As previously noted, scarves serve as useful accessories throughout the year. Scarves provide additional warmth in the fall and winter and go well with a variety of winter outfits. Women's dress coats, down jackets, fleece jackets, and other types of outerwear can all be accessorized with scarves. As well as being equally chilly and rainy as fall, spring may also be. Depending on where you live, you might discover that the scarves you worn during the fall and winter still function just as well on chilly spring mornings. In the summer, a lightweight fashion scarf can be used as a hair accent or wrapped around the neck for a Parisian-inspired look.
There Are Many Colors Of Scarves
You might need a few scarves while purchasing winter accessories to go with various outfits. For your fall and winter capsule wardrobe, consider neutral hues like black, navy, beige, and taupe as a starting point. The outdated norms of fashion do not apply today, therefore you can wear white in the cold as well. In actuality, white down coats and white accessories are really in this winter.
Depending on what you choose, scarves can be utilized to add a bold, vivid touch to neutral apparel, or you can opt for a print that highlights one or more of the colors you're wearing. Try-ons are the greatest approach to choose your preferred appearance. Wear a certain appearance for a day if you're not sure how you feel about it.
Wearing the appropriate apparel and accessories will help you stay warm and stylish all winter. Even the coldest days can be made bearable with the use of scarves, hats, and gloves. Another essential for the cold months is a pair of insulated women's snow boots.