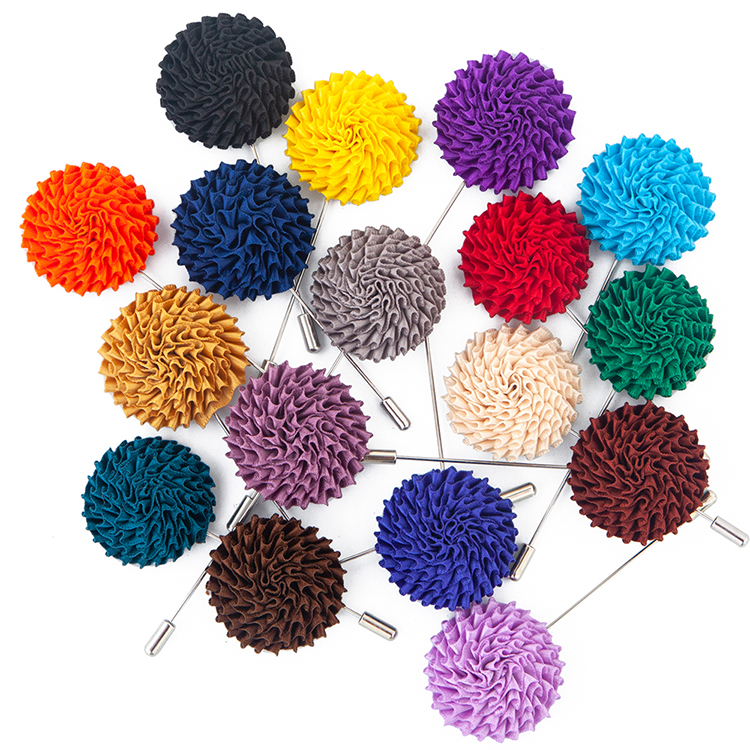 Few accessories in the world of men's fashion are as elegant and sophisticated as lapel pins. These subtle embellishments, when placed on the lapel of a jacket or blazer, have the ability to transform an ordinary outfit into something special. A voyage into the world of varied styles, materials, and designs is required to fully embrace the art of wearing lapel pins with confidence. This journey will allow gentlemen to express their personalities, highlight their uniqueness, and leave a lasting impression on any occasion. In this blog article, we'll set out on a sartorial tour of lapel pins' timeless appeal, learning about their rich history, comprehending their importance, and perfecting the skill of wearing them to match various ensembles.
Lapel Pins' Entertaining History: From Tradition to Modern Style
The origins of lapel pins can be traced back many centuries to heraldry and ancient civilizations. Knights in medieval Europe displayed their allegiance, membership, and war honors on their clothing by wearing brooches and badges. Lapel pins became a symbol of style and status among the aristocracy as time went on. Aristocrats and famous people sometimes wore extravagant lapel buttons to denote their status and accomplishments.
Lapel pins continue to embody tradition in the modern era while also embracing current fashion trends. They have evolved into a necessary wardrobe addition for sophisticated gentlemen who recognize the impact of small finishing touches in creating a powerful sartorial statement.
Mastering the Art of Pairing Lapel Pins with Different Outfits
Unlocking the full elegance lapel pins may bring to your attire requires knowing how to combine them with various clothes. The secret is to find a healthy balance between the lapel pin and your entire ensemble, making sure it enhances rather than detracts from or contrasts with the rest of your clothing.
Formal attire
Lapel pins elevate a formal outfit for occasions like weddings, black-tie parties, or galas by adding a touch of refinement. Choose traditional flowery lapel pins in shades that go well with the suit's color scheme to retain an attractive and sophisticated appearance. A black floral lapel pin is the perfect accessory for black-tie affairs since it adds a dash of contrast without departing from the traditional black-and-white theme.
Professional attire for work
Lapel pins give you the chance to demonstrate your professionalism and attention to detail in the workplace. Consider simple lapel pins or enameled pins in muted hues that match the color of your suit when wearing work clothes. A white enamel pin can stand out dramatically against a charcoal or black suit, while a sleek silver or gold lapel pin can add a touch of sophistication to a dark gray or navy suit.
Smart casual and casual Attire
Lapel pins offer an opportunity to add flair and individuality to your wardrobe for both smart casual and casual styles. For social gatherings or casual events, wearing a blazer, chinos, and a humorous pop culture or novelty lapel pin is entertaining and interesting. Alternately, a vintage or retro lapel pin might upgrade your casual look by bringing a sense of nostalgia to a denim jacket or a linen shirt.
Themed and seasonal lapel pins
Consider using themed or seasonally appropriate lapel pins to mark important milestones or get into the holiday mood. These pins give you the chance to show off your passion and generate conversations at events and gatherings, with everything from cheery holiday themes to expressions of appreciation or patriotism.
How to Make Your Lapel Pins Stand Out by Choosing the Right Dress Shirts and Suits
It's critical to match lapel pins with the appropriate dress shirts and suits in order to completely appreciate their magnificence. The way that colors and textures interact can have a big effect on how stylish your outfit looks as a whole. When selecting the ideal dress shirt and suit to go with your lapel pins, keep the following tips in mind:
White dress shirts
A white dress shirt's classic elegance makes it a perfect canvas on which to display your lapel pin. For both professional and informal settings, white creates a clean and polished image by letting the lapel pin take center stage.
Light blue dress shirts
Dark-colored lapel pins contrast subtly with light-blue dress shirts, giving an ensemble a balanced and harmonious look. This outfit combo works especially well for business casual or semi-formal occasions.
Patterned dress shirts
You must strike a balance when wearing lapel pins with patterned dress shirts. Avoid garish patterns that clash with the lapel pin's design. Instead, choose clothes that match the pin's design and color scheme with modest patterns or solid hues.
Navy suits
A navy suit is a classy and adaptable pick that goes nicely with a variety of lapel pin designs. The deep blue of the suit allows the lapel pin to shine out while keeping a classy appearance, whether it has traditional florals or creative motifs.
Grey suits
Grey suits provide a simple background that draws attention to the design of the lapel pin without overwhelming it. For various events, a gray suit can provide a sleek and modern style, depending on the color of the lapel pin.
Charcoal and black suits
Charcoal and black suits make an exquisite backdrop for a discreet and sophisticated lapel pin at formal gatherings. This mixture radiates an air of classic sophistication.
Conclusion
The skill of wearing lapel pins with assurance resides not only in the beauty of the pins themselves but also in an understanding of their significance, design, and adaptability. Lapel pins offer a wide range of possibilities to enhance your style and show your uniqueness, from traditional floral motifs to amusing pop culture allusions. You can put together harmonious and memorable outfits for a variety of situations by combining lapel pins with the appropriate dress shirts and suits, leaving an impression on those around you. Lapel pins give a sense of confidence and sophistication, whether you're attending formal occasions or more laid-back social gatherings.
Accept the enduring appeal of lapel pins and let them reflect your interests, hobbies, and ingenuity. Wear these gorgeous ornaments with pride as you adorn your lapel because they are more than simply pins; they are special representations of who you are. Let the investigation of the world of lapel pins be filled with curiosity, creativity, and, most importantly, a love of the art of fashion.