How do you make a purple tie work for you?
Views: 202 Author: Wendy Publish Time: 2023-06-01 Origin: Site Inquire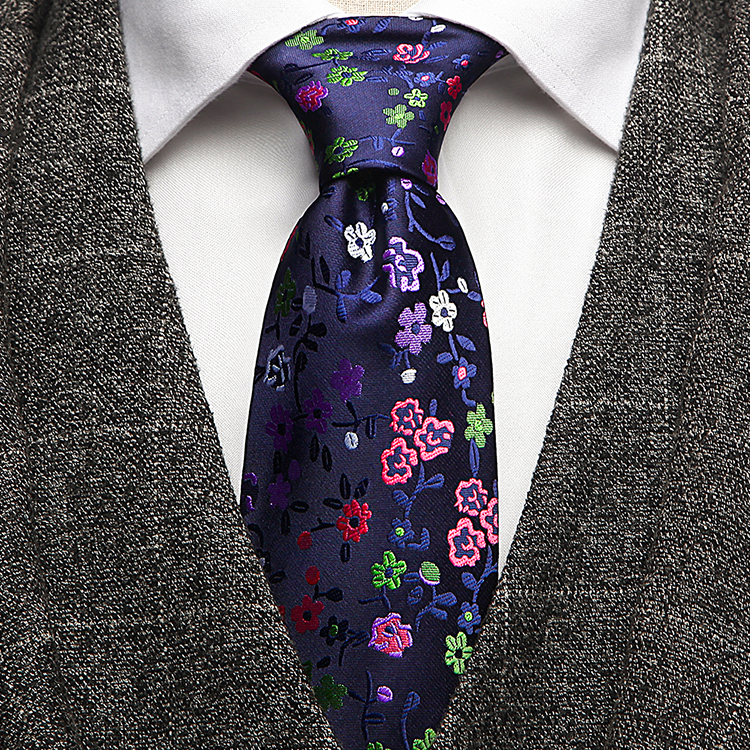 A Brief History Of Purple
Imagine the shade of purple. Do you picture royalty? Purple has been a traditional royal hue throughout history. just the royals. When purple dye was initially developed, it cost a lot and required a painful procedure using a particular kind of sea snail. The only individuals who could afford the dye were royalty since it was so pricey. This purple exclusivity was maintained during the Elizabethan period by Queen Elizabeth I, who forbade anybody outside the royal family from donning the hue. When synthetic purple dye became more widely available and less expensive, the rest of us commoners started donning purple.
What Exactly Is Purple?
There are many different colors of purple, which is a blend of red and blue. Some are light, some are dark, while others are even more brown and more pink, crimson, or blue. Dark purple and regular purple are the most popular shades of purple. These hues are frequently used in corporate logos, school colors, and sports team uniforms. Various seasons favor particular shades of purple over others. The delicate shade of lavender is a favorite of spring and Easter. In the fall and winter, many choose eggplant purple, a deep purple with a reddish undertone. Additionally, there are many varied purple hues in food. Consider berries. Despite the word black in blackberries, this berry is really a deep purple color. Raspberries are a reddish shade of purple, as are mulberries. Purple shades are found in a lot of red wines, too. Merlot, cabernet, pinot. These are all red-tone purples.
Wearing Purple Ties
Let's start with the purple ties. Don't worry if you've never worn purple; we'll ease you in. Wearing purple ties requires four steps.
1.Find Your Purple
So first things first, find a purple you like. As we discussed above, there are a lot of purple shades. You personally might not like every one out there, and that's okay. There are enough purples that we're confident you'll find one or two you like. So find that shade and keep it in mind.
2.Find A Tie
Now that you are aware of the purple(s) you enjoy, go find one or two ties in that shade. Visit Easy Way's purple tie section to look through ties in those hues. It could be a solid or patterned tie. Choose a tie style that you feel comfortable wearing. Look for a purple self-tie bow tie if you're a self-tie bow tie guy. you're a fan of ties? Look at the common ties. Do you like a tie that is more contemporary? You probably prefer ties that are narrow, slender, or skinny.
3.What To Wear With Purple
It's time to put that purple tie on now. Keep the remainder of your clothing neutral as you gradually include purple into your wardrobe. Choose a white shirt with no pattern. Choose navy, gray, or brown for your jeans, suit, or sport coat while wearing purple to work or more informally. Black and purple can be worn together, however it usually results in a more formal appearance. If you're wearing one of these ties, your pocket square should either match the color of the tie perfectly or be all-white.
4.Enhance Your Outift
Once you've become used to pairing purple with those neutral colors and have worn it frequently, you may begin incorporating little hints of other colors into your outfit. But here, you need to be cautious. Purple can go well with other hues, but too much of it will make you seem cartoonish. Therefore, for now, continue donning a suit, sport coat, and/or slacks in those basic tones. When wearing a purple tie, a dress shirt with a subdued check or striped pattern and faint color hints might look fantastic. Choose a shirt whose hues go well with your purple tie. Perhaps a blue or a purple with a comparable hue (lighter or deeper).
You may also gently incorporate other colors into your accessories. (Socks, a tie bar, a lapel pin, a pocket square, etc.) We like to use the color wheel as inspiration for tiny products like this. The colors that are closest to purple on the color wheel should be added; this is referred to as an analogous color scheme. Red and blue describe them. Purple and red go well together, and a crimson tip on a white pocket square or a blue tie bar may really complete the image. Just be sure to choose accessories that match the hue of your purple tie. Darker purples complement darker blues and reds better, for example.
Look to complimentary hues on the color wheel for something a bit bolder. This is yellow, orange, and green for purple. Be cautious when using these colors with your purple tie, but when done properly, they may look really crisp. Choose only one item to wear in these hues as a result. (Orange socks, a green tie bar, and a yellow pocket square are excessive. Decide which one to pick.) then look for that item that matches the color of your tie. wearing a purple eggplant tie? This rich purple is complemented by burnt orange. Purple tie? Stick to accessories in light yellow.
If you made it this far, you're now a purple pro. Go find yourself a purple tie and start wearing it. It won't be long until someone compliments your new look.