Combining Striped Ties With Checkered Dress Shirts And Textured Suits Is a Fun Way To Mix Patterns
Views: 266 Author: Kaylee Publish Time: 2023-09-04 Origin: Site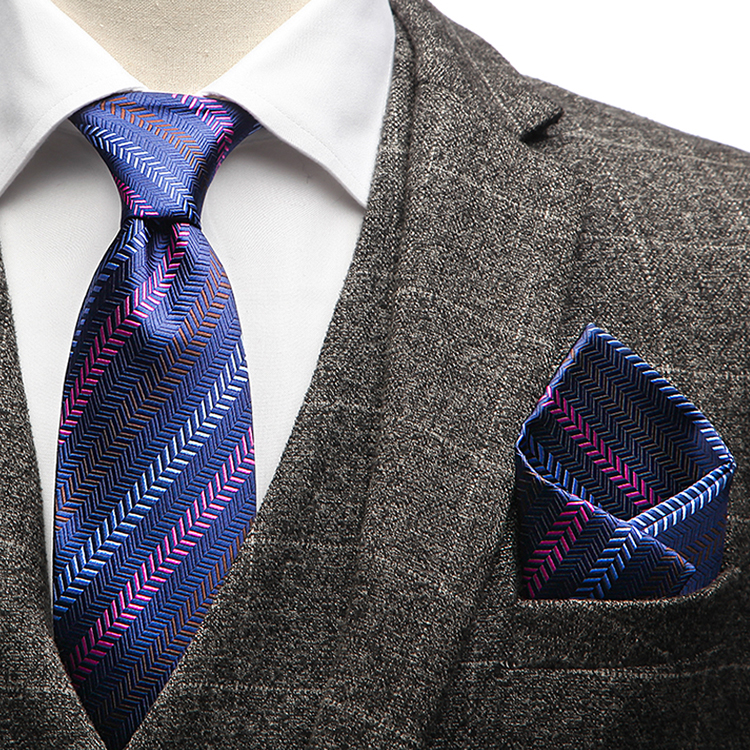 Combining patterns is a skill that exudes inventiveness and confidence in men's fashion. Striped ties with checked dress shirts and textured suits are one eye-catching combo that has been gaining favor. The vibrant combination of patterns, colors, and textures produced by this ensemble not only attracts attention but also demonstrates your mastery of pattern coordination.
Striped Ties With Checkered Dress Shirts: The Art Of Balance
Finding the ideal balance is essential for wearing striped ties with checkered dress shirts. Finding common ground between the two designs is crucial for a harmonious appearance because they both have distinctive qualities.
Contrasting Textures And Complementary Colors
Consider complementary colors when picking a striped tie to go with your checked dress shirt. Select a tie with a background color that goes well with the prominent color in your checked shirt. For instance, use a striped tie with blue as one of its prominent colors if you're wearing a blue and white checkered shirt.
Using Different Sizes
To keep the patterns visually balanced, take into account their scale. Choose a tie with larger stripes if the checks on your striped shirt are smaller. On the other hand, pick a tie with thinner stripes if the checks are bigger. This disparity in scale gives your outfit more depth and complexity.
The Ensemble Is Improved With Textured Suits
Introduce textured suits to the equation to elevate your pattern matching. Contrasting with the sleek lines of stripes and checks, the tactile richness of a textured suit fabric creates a fascinating contrast.
Tweed's Everlasting Allure
Tweed suits make a great canvas for experimenting with pattern combinations thanks to their rustic charm and distinctive texture. An earthy-hued tweed suit should be paired with a striped tie in complementary hues and a checkered dress shirt that echoes the colors in your outfit.
Simple Sophistication: Monochromatic Textures
Choose a textured suit in a single color for a chic and refined appearance. The understated elegance of a striped tie and checked shirt is enhanced by a deep blue or charcoal gray suit with a delicate texture.
Pattern Mixing With Courage: A Few Rules To Remember
While combining patterns can be daring and thrilling, following these rules will make you look put-together:
Vary Pattern Sizes: Prevent patterns that compete for attention by being the same size. Choose a larger pattern, like checks, and combine it with a smaller pattern, like stripes.
Keep the Color Connection Alive: Ensure that at least one color is constant throughout the patterns. In doing so, cohesiveness is created and a disconnected image is avoided.
Introduce solid components to your ensemble to provide balance and visual contrast. Your outfit can be grounded with a simple tie bar or solid-colored pocket square.
Determine whether you want to make a dramatic statement or a subtle blend by choosing between the two. Bolder designs grab attention, while more subtle patterns produce a more sophisticated appearance.
The secret is confidence. Ultimately, confidence is key to pulling off this look. You're more likely to project an aura of sophistication if you feel good about what you're wearing.
Models Decked Out With Suits And Striped Ties
Occasions & Events: Where to Display Popping Patterns
Business Conferences And Working Hours
You can subtly incorporate pop culture trends into your professional clothing. For a business atmosphere, opt for more muted patterns and hues. The ideal combination of formality and style is a navy textured suit, a white checked shirt, and a blue striped tie.
Cocktail Events And Social Occasions
You might experiment with bolder patterns and colors for parties that are more laid-back. A captivating ensemble made up of a gray tweed suit, a red and black checked shirt, and a red-tinged striped tie is ideal for making a smart entry.
Celebrations And Weddings
Pop-up designs can also be stunning on special occasions. For weddings or celebratory events, a textured black suit, a light blue checked shirt, and a striped tie with blue accents provide a classy yet memorable look.
Finally, the combination of striped ties, checked dress shirts, and textured suits offers a thrilling chance to demonstrate your mastery of pattern coordination. You may create a look that radiates inventiveness and self-assurance by carefully choosing colors, maintaining proportions, and adding textured textiles. The skill of mixing patterns gives your wardrobe a dynamic dimension that will add eye-catching appeal and start conversations, whether you're dressing for formal occasions, social gatherings, or casual situations.