Colour Guide and Basic Rules for Matching Your Pocket Square
Views: 284 Author: Bella Publish Time: 2023-08-24 Origin: Site Inquire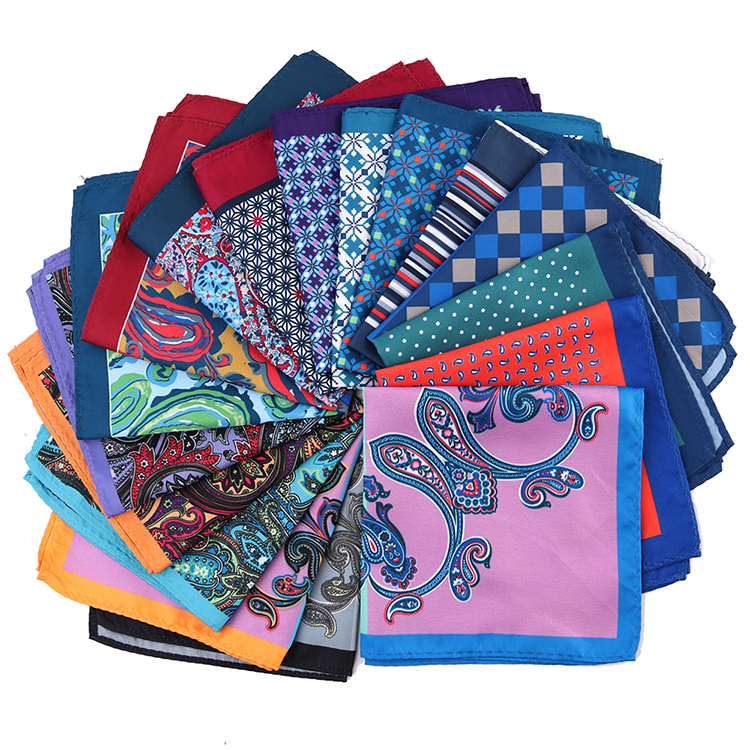 A well-positioned pocket square can be the ideal finishing touch to round off your ensemble. But there are minor intricacies in the rules about matching a handkerchief in your breast pocket to the rest of your outfit that might complicate the pairing of goods. Here are some fundamental guidelines to follow: the colour guide.
Solid Colours Are the Best if You're Unsure. Matching White and Blue Is the Simplest.
It could be challenging to figure out what colour schemes look best if you're just starting to wear pocket squares with your attire. A plain white pocket square goes well with almost any type of clothing. Possibly the most sophisticated pocket square style, it can also be worn in extremely formal situations. Because of its simplicity, the white pocket square is a must-have for any wardrobe.
Wear a blue pocket square, which goes well with most outfits, for an appearance that is a little bolder. Just be careful to stay away from fluorescent-blue pocket squares, which are rather popular but might come off as cheap and juvenile.
Select Complementary Colour Schemes to Create Maximum Harmony in Your Ensemble.
On the colour wheel, an analogous combination combines colours that are right adjacent to one another. Usually, this colour scheme produces a highly harmonious ensemble. Combining orange and yellow or blue and violet is an example of an analogous colour ensemble. The danger of this kind of matching is that it may result in an extremely warm-toned ensemble that is out of balance. But this isn't necessarily a bad thing; remember why you are wearing this.
The Greatest Contrast May Be Achieved With Complementary Colour Schemes.
On the colour wheel, complementary colours are those that are right across from one another. In the whole colour guide, this is the most audacious method. This is similar to pairing green and red or blue and orange, for instance, which may look too cheerful.
Remember that you don't have to go for the loudest and brightest hue of each colour; for an elegant yet upbeat style, try matching a blue tie with a subdued orange pocket square. Instead of treating this colour guide as infallible, use it as a general guideline.
Your Various Tones Are Balanced When You Choose Triadic Colour Schemes.
Triadic colours, such as green, orange, and purple, are those that may be found by placing an equilateral triangle over the colour wheel. Due to the colours' varied character, an ensemble with all of these hues will look extremely well-balanced. It is possible to combine cold and warm tones without their clashing.
A yellow pocket square, a red or burgundy tie, and a navy jacket make an especially well-balanced ensemble. When done well, the combination has a very sophisticated and elegant appearance. Depending on the colour of your pants, a pair of men's socks in blue, red, or yellow tones will finish the ensemble.
Wear Different Patterns for Your Tie and Pocket Square. They Ought Not to Coincide!
It is a major fashion faux pas to match your pocket square and tie exactly. It reminds me a lot of a pre-made dress shirt, pocket square, or tie combo. Men tend to make the worst error when pairing ties and pocket squares: don't do it!
Maintain a Spotless Pocket Square.
Although it doesn't precisely fit into our colour scheme, this advice is frequently overlooked. Over time, your white pocket square may become a little bit scuffed or perhaps just plain dirty. Make sure to wash your pocket square properly and don't disregard it. This humorous suggestion also works for many other types of clothing: keep your clothes neat to avoid appearing sloppy and unprofessional.
It's Important to Mix Up the Materials of Your Pocket Square and Jacket.
Contrary to what was previously advised in our colour guide, avoid matching the fabrics of your pocket square and accent pieces exactly. Adding a pocket square to your jacket might serve as a way to introduce some colour and texture variation. A wool jacket and a silk pocket square go well together.
If the Pattern on Your Tie Is Intricate, Go With a Pocket Square That Is One Colour.
Avoid designing an outfit that is too busy. Generally speaking, if your tie has three or more different hues, Generally speaking, it's advisable to stay away from mixing too many distinct hues. Despite this colour guide's colour selections, your outfit should ultimately prioritise simplicity.
Remember to Wear Your Socks.
Coordinating your socks with the rest of your clothing is essential, especially with the current rise in popularity of colourful socks in men's closets. Even if your handkerchief and tie are perfectly coordinated, the incorrect socks might ruin the ensemble. Use this colour guide's analogous, complimentary, and triadic colour concepts to create a well-rounded ensemble. Since your socks are out of sight for the majority of the day when you're wearing your ensemble, consider going with a bolder design in the corresponding shade. Purchase patterned socks from our store to go with every outfit.
Conclusion
In the end, style is personal. Harmony is therefore the main feature you should be searching for in your ensemble. Specifically, there should be a deliberate balance between the colours, patterns, and it. You can use this colour guide as a point of reference to help you match your pocket square by following some important guidelines. It's up to you to wear your pocket square stylishly.